Description
WireCrafters GuardRail Systems
Protect and enhance your plant's safety features from accidents often caused by sweeping machines, forklifts and other moving equipment. WireCrafters GuardRail systems protect employees, buildings, goods and machinery from those potential dangers. GuardRail creates a blockage along the front of the equipment or in the aisle ways.
By using our railing, you proactively enhance employee safety and protect your equipment from accidents. You save money in the long run by blocking hazards before they take place, which allows your business to keep running. Any damage to equipment may affect overall operations and the welfare of your employees.
We designed and tested the system to ensure its utmost safety. GuardRail has the ability to withstand a 10,000-pound load that moves at the rate of four miles per hour. For additional information, please ask our Sales experts to review our GuardRail Systems Impact Test Report.
Select Sizes and Styles Available
Guardrail safety railing is readily available in single or double columns. Single columns are 17 inches high. In contrast, double columns reach 43 inches high. Both options have some common features. All columns have a 4-inch square by one-fourth steel tubing, which comes equipped with metal caps. In addition, the columns have 10-inch by one-half steel base plates. We include four round anchor holes, sized at seven-eighths of an inch, on the base plates and floor anchors. If you need another size, we can create custom guardrail systems and safety railings. WireCrafters paints all stock and custom columns with safety yellow powder coating.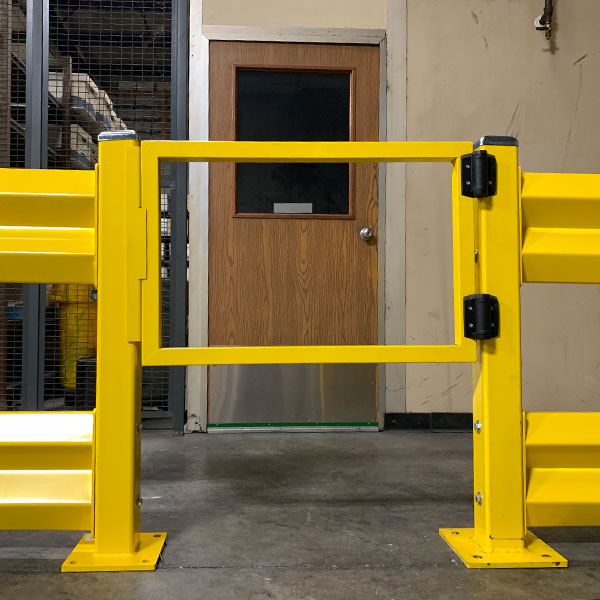 Choose Single or Double Rail Columns
To better serve your needs, we offer single and double rail columns. Our single-rail option is 17 inches high. Double columns are 43 inches high.
Standard Stock Sizes
If you require stock sizes, expect the lengths to come in one-foot increments, ranging from 8 inches to 9 feet and 8 inches.
GuardRail and Accident Prevention
GuardRail provides a cost-effective method to proactively prevent damage to your facility, plant or equipment. The guardrail safety railing creates a barrier in front of your equipment or in the aisle ways.
Variety of Rail Lengths
Standard 11-gauge rails come in many lengths, and the sizing starts at 8 inches. While all stock lengths come in the size of 8 inches, you may choose from less than 1 foot through 9 feet. WireCrafters also provides custom rail lengths when needed. To ensure you properly mount the rails to the columns, we recommend using 1 inch by 5 inch through bolts. All rails come with safety yellow powder coating.
Fast, Secure and Effortless Installation
All guardrail safety railing pieces attach to each other. You affix the base plates to the floor. Purchasing our system also saves you additional installation costs as we provide the needed hardware with every order.
Fast Facts about GuardRail
GuardRail is guaranteed to endure the force of a 10,000-pound load at the speed of four miles per hour.
The components bolt together, which makes for a more efficient installation process.
We include all needed hardware with each order – this includes items like floor anchors.
Choose from singe columns or double columns.
All combined rails and columns fit 1-foot centers.
We supply offset column base plates and lift-out sections if needed.
We offer Guardrail at competitive prices – this has the potential to save your company money from worker downtime and machine repairs because the product prevents issues before they happen.