Description
WireCrafters Holding Cells
WireCrafters has been developing its Style 840 holding cells to be used for temporary confinement for prisoners that are being detained or process for temporary periods of time.
Stock Panels
The panels come in increments of one-foot and have a range of 1′ to 10′. Panel heights can reach up to 4′ or 5′.
High-Level Security
WireCrafters uses a unique partition design for their cages that helps to prevent access to any hardware on the holding cell's secure side. There are heavy duty models available for organizations and facilities which require improved security.
Making Use of an Existing System
Our secure and open design makes for increased circulation of any existing systems including HVAC, fire suppression, and lighting.
Temporary Cells
Our Style 840 partition systems are used in the construction of temporary prisoner cells that are used in detention and correctional facilities around the country. These cells are specifically designed to hold individuals while they are in temporary confinement either during processing or detainment. Our strong partition panels have a wide range of configurations in order to meet the unique needs of each facility.
Cell Ceilings and Doors
Prisoners and detainees are held within the cell by hinged doors that come with secure locking devices. The ceiling panels are built with the same material as other parts of the holding cells. Our special design helps to prevent unauthorized access to any hardware from the holding cell's secure side. Our wire partition cell system is quick and easy to install. There is no need for specific or expensive tools. WireCrafters specifically designed these holding cells with the functioning of existing systems in mind. There is an open concept that allows for the free circulation of HVAC, lighting, fire suppression, and other systems that are currently operating in any facility. There are more robust options available for organizations that require advanced security.
Locking Details
WireCrafters manufactures its holding cells with standard mortise locks that come in a cylindrical format. These devices are self-locking and have a tongue with spring action. For facilities requiring tighter security, we offer a dead latch lock as well. Bottom and top slide bolts can also be built into the door. If you have a specific lock requirement, we can offer bespoke manufacturing options.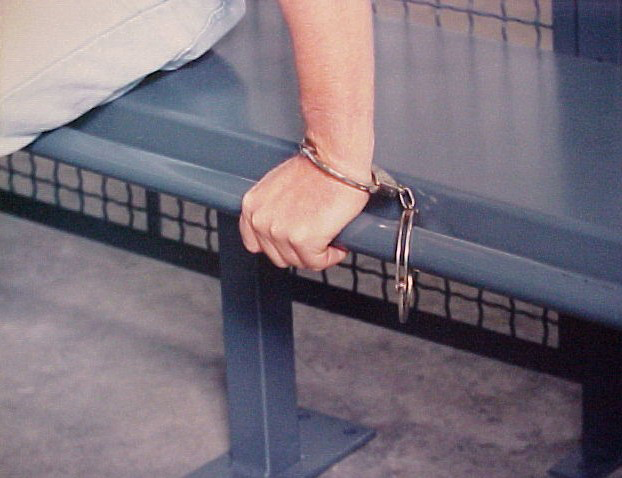 Seating and Benches
We offer anchorable benches constructed with 11-gauge steel. These benches can be bought separately or purchased with the cell itself.
Options: Mounting brackets, seat width, cuff rail, bench length
Lengths: 8′, 6, and 4′. Available corner units.
Mounting Plates: Base plates with four anchors.
Seat: Built with 11-gauge metal and measuring 13″ wide with available cuff rail to add 4″ to the width
Handcuff Rails
Clients have the option of purchasing a steel pipe measuring 1″ in diameter to add to these benches. These pipes will be welded tightly and securely to both ends. If facilities don't desire the full-length rail, there are other options available as well.
Features
Stack more than two panels in between each post to reach height of wall
20 standard panels measuring 4′ or 5′ in height and 1′ to 10′ in width
Custom heights and panel sizes available
Double-hinged, hinged, vertical rise, and sliding doors available
Each sliding door has tamper-resistant features that have been patented
The angle frame designs offer clear and open access to protected hardware and makes for quick installation
Hardware isn't accessible from partition's secured side
Our 3/8″ hardware used for mounting is one of the industry's heaviest
Heavier duty options available
Panels can be ordered in any mesh or with expanded sheet metal, expanded metal, or Lexan
Additional System Components: