Description
Mezzanine Stairs
Closed risers, wider treads, smooth treads, unusual angles, multiple landings, cantilever landing design, and stairs with other requirements can be custom designed to meet your material handling needs. Mezzanine gates and rails have to meet the customer's needs, requirements set by the local Building Departments, and codes set by the State.
Mezzanine Design and Permits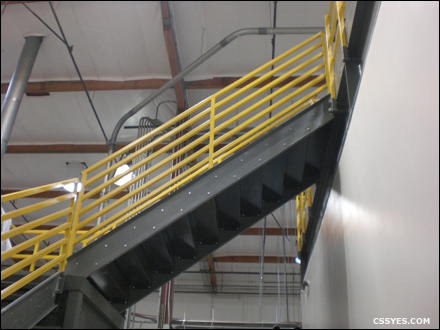 Stair construction must meet codes and regulations.
Any storage mezzanine installed in the State of California requires a building permit. We can assist with technical drawings, seismic calculations, submittal services, and forms required by the Building Department. Our turnkey services begin from the conceptual design and finish with the completed project.
Mezzanine Installation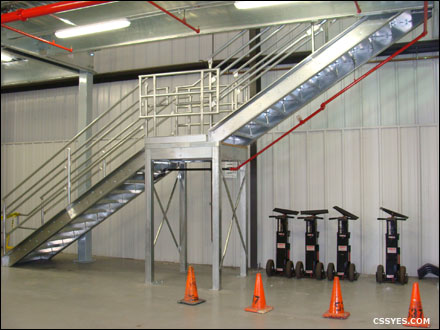 Professional installation services.
Our company provides mezzanine installations using experienced staff. Our expertise, and concern for safety, ensures all projects are completed successfully by consistently communicating with site managers, warehouse employees and other contractors.
Mezzanine Floors and Decking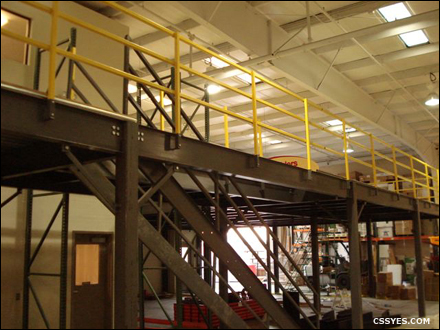 Mezzanine decking can be solid or open grid.
Mezzanine floor can be constructed of many types of materials for mezzanine decking including wood or steel, and can be open grid or flat solid decking.
Custom Designed Staircase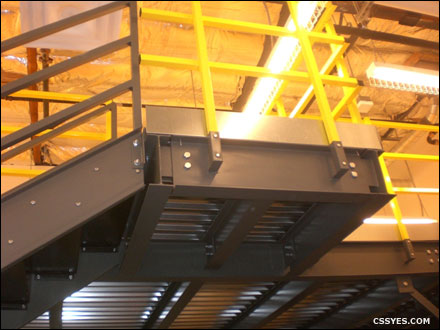 Cantilever stairs and landing removes the need for unnecessary posts.
This storage mezzanine was custom designed with a cantilevered landing, allowing clear access to the storage area directly beneath the staircase. Structural steel beams we used to increase the storage capacity of the floor. For larger systems, lighting can be installed underneath the flooring.
Stairs for Rack Supported Mezzanines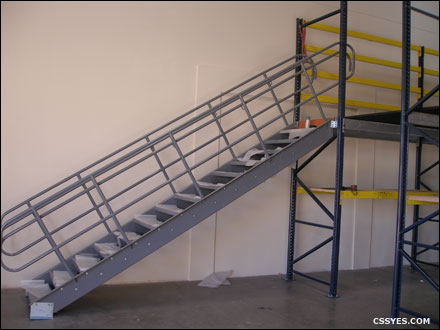 Many options are available for steel staircase design.
This system was designed with a single 14-step staircase leading up to the floor of this rack supported mezzanine. The beam level below the mezzanine floor creates additional storage space, while the steel bar grating floor design allows overhead lighting to illuminate down to the warehouse floor. Follow this link to see a photo of stairs in a custom designed warehouse storage mezzanine in California.
IBC Stairs for Warehouse Applications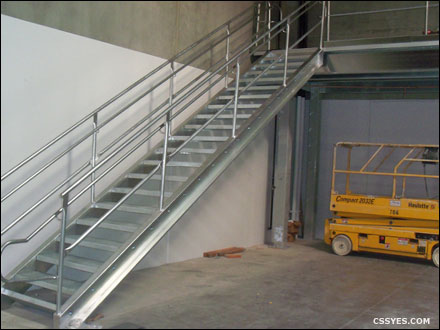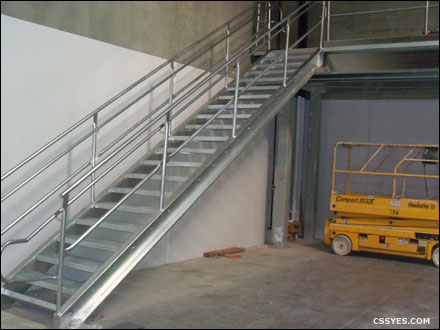 Stair access under building code compliance.