Description
Wirecrafters Tool Cribs and Storage Cages
WireCrafters' brand-new wire partitions are a great solution for the assembly of tool cribs and storage cages. You won't have to worry about misplacing tools with the implementation of a secure and designated are for each tool.
Tool Cribs and Storage Cages Brochure
Stock Panels
These panels are made in increments of one-foot and range from 1′ in length to 10′. The heights range from 4′ to 5′.
Panel Options
You can choose from a wide selection of panel types including sheet metal, polycarbonate, expanded metal, welded wire, and wire panels.
Endless Customization
Each of the tool cribs and storage cages can be made in custom configurations and sizes.
Two-Day Shipping
Basic cages and stock panels are always kept in stock to ensure two-day shipping to any location in the U.S.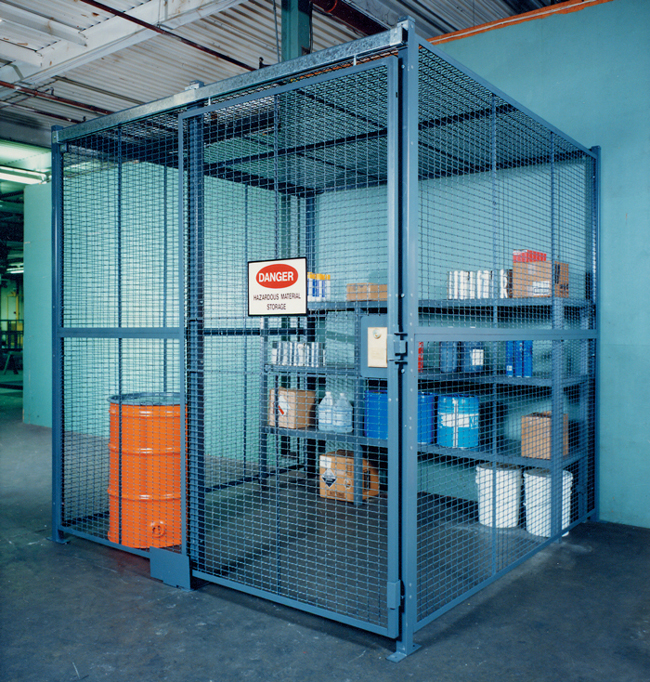 Equipment Cages and Tool Cribs
WireCrafters' partition system made from woven wire makes it easy to build a tool crib of any configuration and size. In contrast to most alternatives, these wire partitions offer a fully framed mesh panel that can bolt together individual sections. A majority of maintenance departments are able to install this form of partitioning without using special equipment or tools. This makes for an easy process of installation for tool cribs and storage cages.
Tool Cribs and Organization
WireCrafters' wire partitions can aid in the construction of many different kinds of tool cribs. You won't have to concern yourself with misplaced tools or a hectic workspace with a secure and designated are to house equipment and tools. Many businesses have realized how wire partitions can help organize their workspace and yield dividends in the future. Whenever an employee needs a certain tool to complete their work, they'll sign out the desired tool. This system ensures that no tool become misplaced. There are many companies who opt for a closed tool crib that uses a service window so that plant employees don't have to enter the actual booth.
Security Cages
Wire partitions have many potential uses within your company. They can be used for securing inventory, products, and various forms of equipment. With wire partitions, you can create security cages for janitorial supplies, inventory, and the company's most prized items. WireCrafters also offers many different custom locks that can help control who enters the tool cribs and/or security cages. With keypads, card readers, and proximity readers, you can rest assured that these spaces are kept safe.
Construction of Tool Cribs
WireCrafters makes all of their partition panels with twenty stock wire. Customers can choose any width of partition panel from 1′ up to 10′, with one-foot increments in between. The panels are either 4′ or 5′ high and come stacked on top of each other to make it easier to assemble the tool crib which can be 12′, 10′, or 8′ high. These units also come with a variety of doors. Clients can choose from sliding or hinged doors. Each can be shipped within 48 hours. All security cages also have the possibility of being equipped with a ceiling and wall panels. Security cages and tool cribs can all be designed in bespoke configurations and sizes.
More Options
WireCrafters has the ability to manufacture security cages and tool cribs with a variety of materials including welded wire panels, polycarbonate panels, sheet metal panels, expanded metal panels, and woven wire panels. A transparent wall may have to be implemented in order to offer clients a view at their stored equipment. In this case, polycarbonate panels will be used. There are some applications that use sheet metal to keep anyone from viewing inside the storage space. WireCrafters can make any substitutes in order to meet security requirements.
Features:
Twenty standard sized panels 4′-0″ or 5′-0″ high, by 1′-0″ to 10′-0″ wide.
Stack two or more panels between posts to reach wall height.
Standard size panels work in ceilings and walls.
Custom size panels and special heights available.
Hinged, double hinged, sliding, and vertical rise doors available.
Sliding doors have patented tamper resistant latch mechanism.
Angle frame design gives installer clear access to hardware, speeding installation.
Assembly hardware is inaccessible from the secured side of the partition.
Standard 3/8″ mounting hardware is the heaviest in the industry.
Heavy duty options available.
Panels may be ordered with any mesh, expanded metal, sheet metal, or clear Lexan.
Additional System Components:
Secured Wine Storage Cages
As experts in secured storage solutions, product separation, custom fit designs and absolute efficiency, Conveyor & Storage Solutions, Inc. is the partner you need to get your job done right the first time. Along with decades of experience, C&SS is a certified WireCrafters Premier Distributor, trained with their most popular items for lightning quick turnaround and getting you the best prices for all your material handling needs. Discover more in our Case Study: Wine Storage with Secure Wire Lockers of a recent project we completed with WireCrafters storage cages.