Description
UNEX Span-Track Lane
UNEX Span-Track is the ultimate carton flow rack roller system that easily drops into your existing structures. Span-Track Lane patented designs allow for product to flow directly to the pick point of the worker.
When it comes to order picking solutions, Span-Track is the leader.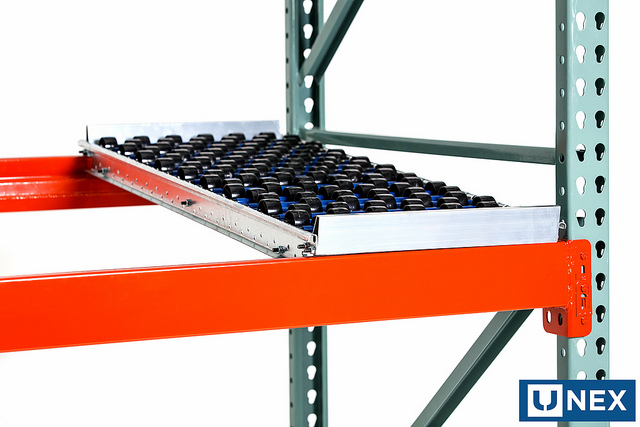 Why is Span-Track Lane so Versatile
Span-Track Lane carton flow rollers allow for even weight distribution by providing the most surface contact. The UNEX Span-Track Lane patented designs eliminates track hang-ups and optimizes product flow.
High accessibility and visibility for SKUs of varying shapes and sizes.
Organize and condensed your inventory.
Decrease travel time on the pick line.
Maximum your warehouse space usage.
In addition, UNEX full-width roller lanes are available in a variety of capacities. This allows for product stacking while increasing production in your order picking operations.
Span-Track Lane order picking solutions offer:
300% more product contact than plastic wheel lanes.
Low temperature capabilities for freezers and coolers as low as 20 degrees below zero.
Easy installation, Drop-in designs.
Increased throughput up to 150% when compared to order picking from pallets.
Light, standard, and heavy duty capacity options.
High capacity options designed for stacking products.
Customized end treatments for easy use with any pallet rack beams.
Knuckled front end options to accommodate split case order picking.
Patented track notching that minimizes height and maximizes clearance.
Impact zones for heavy loading.
A comprehensive seven year warranty.