Description
UNEX Span-Track Wheel Bed
How flexible is your carton flow system? If you're not using the UNEX Span Track Wheel Bed, the answer may be "not enough". Span-Track wheel beds are designed to meet the ever changing demands of your order picking operation. Span-Track will increase product order flow and storage space flexibility.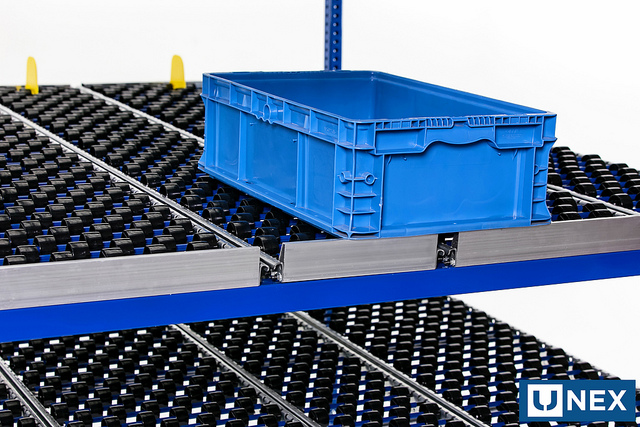 Wheel Bed provides the following:
Maximize Order Picking Rates – Increases throughput by 150% compared to picking from a pallet.
Storage flexibility – Store multiple sized products within the same shelf level.
Decrease Order Picking Travel Time – Reduce travel time between picks by storing items closer together.
Productive Use of Space – Maximize space and create ideal FIFO storage for products.
Simple Design – Reslot wheel beds without having to move tracks.
Seamless Installation – Drop-in design wheel beds create a simple installation.
Capacity – Available in light, standard, and heavy duty options.
Guaranteed to Fit – Customized end treatments are designed to fit any type of pallet rack beam.
Knuckled Track – Available in straight track for full case picking or knuckled track for split case picking.
Clearance – The height of the track within your pallet racking is reduced by our patented track notching.
Durability – Built to withstand your day to day operations and backed by a seven year warranty from Unex.