Description
The Deluxe Closed Units Shelf Solution
The Deluxe Closed Units System is the perfect solution for businesses struggling to maintain an organized workflow. Whether you're handling products on a daily basis or simply keeping track of some items, storage is an important component of any successful company. A lack of organization can result in an impeded workflow. This situation will only breed more inefficiency and a loss of productivity. It's a common problem for companies to fall victim to disorganization due to a lack of effort in this area.
It's not that companies don't care about having an organized workflow. Instead, their energy is usually focused on the larger issues facing their company. However, many businesses fail to realize how a lack of organization can affect their success overall. Some of the potential outcomes from a hectic workflow include a loss of products, damaged items, late or delayed shipping, and more. If the situation becomes too serious, clients may start taking their business elsewhere.
The Deluxe Closed Units System is an affordable, simple, and effective method for improving your company's workflow through an increase in optimization and productivity. This shelving solution can accomplish many goals for your company. First and foremost, you'll have a designated location for your items. You won't have to suffer from the eye-sore of a messy warehouse or showroom. Secondly, these accessible shelves will also increase your picking speeds.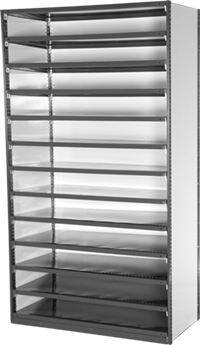 This handy shelving system has also been designed to look just as good as it functions. You won't have to worry about making your storeroom or showroom look like a warehouse. This aesthetic shelving solution fits with a wide range of color schemes and designs. In addition to having an aesthetic design, these Deluxe shelves are built to last. With a rigid metal construction on all sides, these shelves have the ability to withstand prolonged usage and heavy loads. You don't have to choose between a pleasing appearance and structural integrity. This unit covers all of the bases.
All of our systems have been designed to grow with your company. There is nothing more frustrating than having to invest in new equipment during each growth phase. This is a waste of money and incredibly inefficient. In order to avoid this headache, our experienced team of engineers and designers have designed these units to grow alongside any organization. Whether you're breaking new records each month or taking baby steps towards growth, this closed unit system will be along for the ride.
Our team at C&SS will also design a system to meet your company's unique requirements and budget. After all, there's no point to invest in a system that fits a generic need. Your company is one-of-a-kind, and our team is dedicated to building solutions that are just as unique.
If you're ready to take your company's organization and output to the next level, you should consider implementing this Deluxe shelving solution. It's truly amazing what a large difference a seemingly insignificant addition can have on your organization's workflow. Our talented team of designers, engineers, and manufacturers have carefully constructed these systems to work in a wide range of applications. A company in any field can benefit from an optimized and organized workflow.
Bin Unit Configurations (based on 87″ high standard units)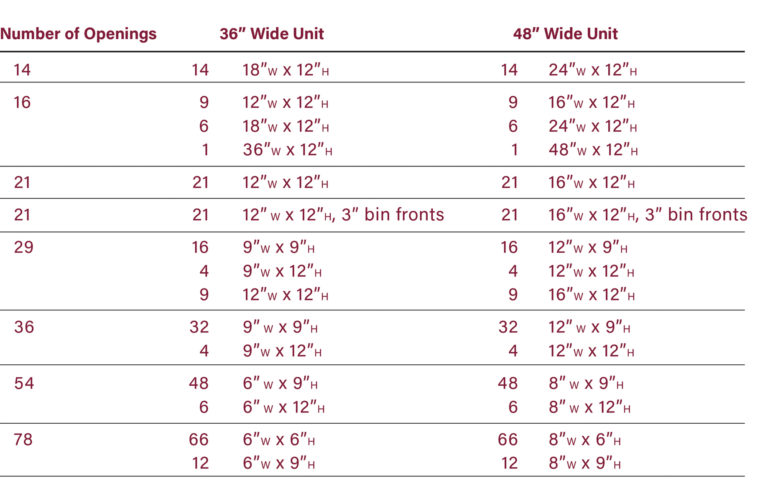 Shelf Capacities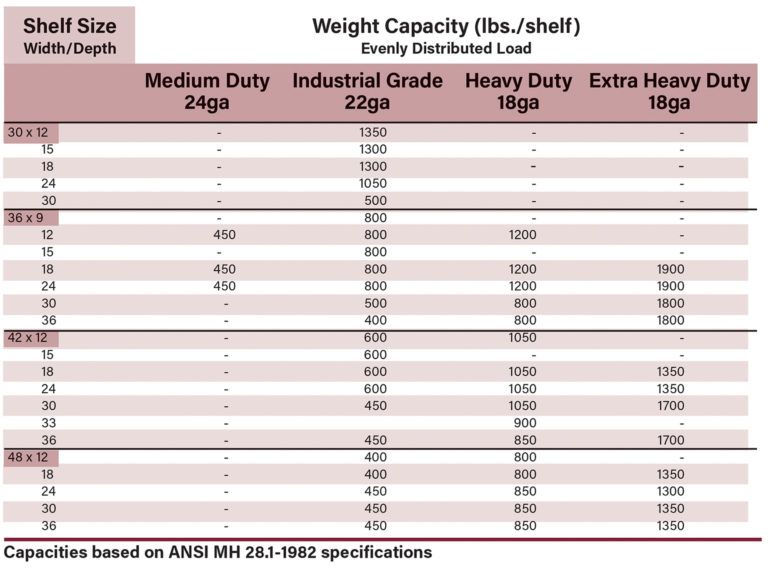 Shelving System Growth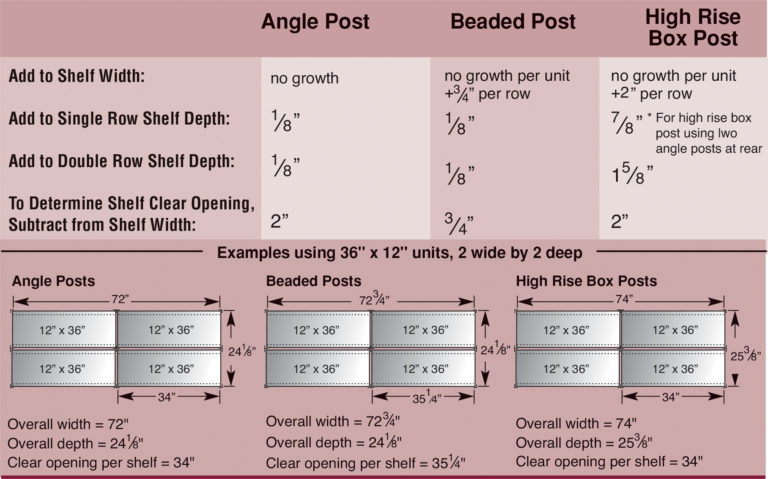 Shelving Spacing Chart (based on 87″ high standard units)