Description
Western Pacific Storage Solutions Pacific Shelving Open Units
The Pacific Shelving open units are the universal solution to the most common warehousing problems. This system has been designed with an open concept to ensure that products can be accessed from any angle. This results in easier retrieval and quicker stocking. Our dedicated engineers designed each unit with compression clips to allow for a bolt-free assembly. There's no need for any expensive tools or complicated accessories when setting up these units. You'll be able to setup and take down the shelves within a few minutes. Sway braces have been added on the sides and rear of the units for ultimate structure and stability. The Pacific shelving open units are perfect for storing packaged or bulky items. Each shelf is adjustable in increments of 1.5″. Overall, this system is ideal for mobile or high-rise storage. Some additions may require extra structural bracing.
Pacific Metal Shelving Brochure
Custom Designs for Unique Businesses
We design each system to grow alongside your business. Our dedicated team of engineers can customize an entire system to meet your personal budget and needs. The specific industry and application of the shelving don't matter. Every Pacific system is constructed with state-of-the-art technology, robust manufacturing processes, designs approved by UBC/BOCA and OSHA, rock-solid applications, satisfaction guarantee, and thorough product testing. It's hard to be disappointed when you choose Pacific.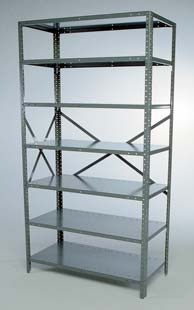 Shelving System Adjustments
Every shelving system designed by Pacific comes with adjustable components to ensure greater versatility and functionality. After all, these shelving systems are only useful if they're compatible with a customer's current operations.
When adjusting a shelving system, it's important to start by calculating the post height. This is accomplished by determining the distance between the centers of two, adjacent shelves. Next, you need to determine the minimum level of clear vertical opening for each shelf. You can then add 1.25″ of shelving profile and estimate to the nearest 1.5″ increment.
The next step is to determine the minimum length for post height. Start by multiplying the distance between the center of two adjacent shelves by the minimum number that is required for shelf openings. Add 4″ to account for first shelf's profile and for the bottom of the shelf openings. If you want to have the first shelf lower to the ground, you only have to add 2.5″ or 1″.
Shelving System Growth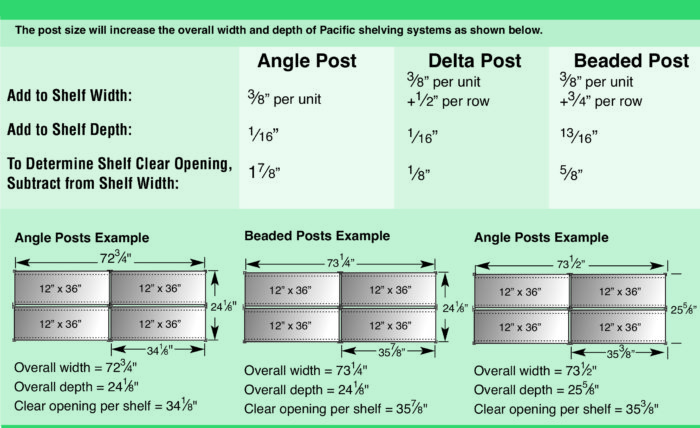 Example:
Some users will be understandably confused by these directions. Without a sample, it is difficult to provide accurate steps. To help make this process easier, we will offer an example. The shelving system in question contains seven shelves with six shelf openings. The minimum length required for clear vertical openings is measured at 11.75″. The spacing between the centers of two adjacent shelves is measured at 13.5″. The total post height will be represented by the following equation if the six shelf openings are required: (13.5″ x 6) + 4″ = 85.
It's important to be careful when making these calculations. As with any complicated measurements, it is advisable to measure more than once. This is the best way to ensure your shelving systems work properly.