Description
Western Pacific Storage Solutions RiveTier Records File Storage
Many companies struggle to efficiently store their files and records. From sales receipts and customer information, every transaction results in several important pieces of paper. It is critical to organize these documents in a detailed manner. Whether a company is trying to optimize its current space, maximize its organization, or save their records and documents, RiveTier Records File Storage is the perfect solution.
RiveTier Boltless Shelving Brochure
In the past, many of our clients paid top-dollar to have an off-site company house their documents. After purchasing our open-file storage options, these loyal customers are now in control of their own organization. Some customers have even purchased new buildings and organized entire teams to handle their archiving system.
Complex shelving solutions were built to house all of the active files that were consistently used. Long-span shelves were installed to store archives and x-rays that were held in boxes. Now, the company manages and organizes its own filing and archiving system, and they save a lot of money and time in the long run. Here are some of the major benefits of owning this storage solution:
The shelves are constructed with a 3/8″ depth for secure filing.
Retainers in the back ensure that papers and other important documents don't fall out.
Each shelf is included with two bookends.
RiveTier: RiveTier introduced its first shelving solution to replace the old frame systems that had dominated the market. The revolutionary RiveTier 1 was constructed with lumber and metal, offering unparalleled support and flexibility. These shelves were designed with sturdy parts and slotted angles for easier storage. Here are a few of the main reasons that customers stick with RiveTier:
We're always blazing our own trail, ahead of the competition.
Our unique T-posts offer an affordable solution when adder or starter systems are required.
Customers have access to their documents from every angle and side.
There is no additional bracing or support is needed.
The main parts are constructed from 14-gauge steel.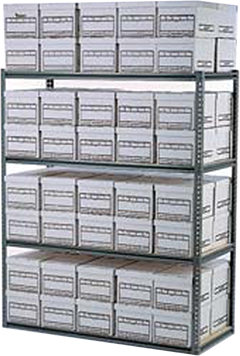 Easy to get started
It's easy to start. Every item needed for the assembly process is included in one, organized box. RiveTier products are all designed with boltless connections for seamless assembly. You'll only need a rubber mallet and a few minutes for an easy set-up process.
T-Post Reduces Assembly Time
RiveTier developed the dynamic T-post to make for a quicker installation time. Instead of having to assemble independent posts with complicated tie plates, customers can simply use the RiveTier III's T-post. This solution helps to save customers time and money overall.
Considering Vertical Space
RiveTier has designed the profile of each shelf to impact the opening spaces between each level of the shelving system.