Description
RiveTier Assembly Stations, or Workstations
Companies can easily improve their workflow and productivity with a RiveTier Workstation solution that is specifically designed to meet their requirements. Our shelving and storage solutions are perfect for maintenance tables, assembly benches, quality-control areas, tech stations, shipping/mailing centers, and more.
When accompanied by the RiveTier or QuikPik flow racks, these workspaces can be set up in minutes. RiveTier has designed these work stations to integrate a workbench and shelving unit into one work area. Here are some advantages that customers will enjoy form this system.
RiveTier Boltless Shelving Brochure
Functional and practical construction and design for maximum comfort
Affordable alternative to more expensive workstations
Many different work surfaces to fit varying needs and functions
Workstations can be grounded electrically to offer a stress-free work environment
Lower shelving can easily be added to maximize storage space
Individual parts are completely interchangeable for different configurations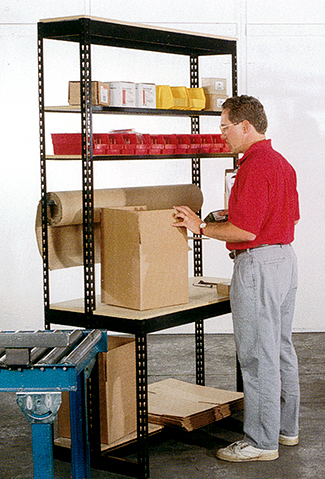 RiveTier: RiveTier 1 was revealed in 1968 as an alternative to the frame systems that had become the norm. These new systems were designed with heavy-duty parts and slotted angles for maximum efficiency. The RiveTier 1 was built with lumber and metal, unlike many competing models. Here are some reasons that RiveTier has remained at the forefront of the competition:
Always ahead of the other competitors in the industry
T-posts offer an economical and practical solution for adder and starter systems
No cross bracing or sway for maximum sturdiness
Unobstructed access from all angles and sides
No external support needed
All main components built from 14-gauge steel
Four different beam styles for varying capacity needs
Quick and Easy Installation
Everything is delivered in a compact and organized bundle that makes for quick and easy assembly. With RiveTier's easy connections, these units can be installed without any complex machinery or tools. You'll only need a rubber mallet. Within a few minutes, the entire system will be ready to go.
Shorter Installation Time with RiveTier III's T-Post
Most competing designs require the installation of two LURH posts and difficult tie plates. The RiveTIer III includes the all-new T-post that makes for a much quicker and easier assembly process. You can save a lot of money, time, and stress with these intermediate posts.