Description
Wire Partitions Closed Secured Area
Our welded wire partitions and wire systems provide a stronger panel made of heavy duty 6-gauge wire welded at every wire contact point. It installs faster and easier than traditional woven wire mesh panels, and is still available for the same low price.
Woven and Welded Wire Partitions
Steel Folding Access Gates
Steel Panel Fall Protection
Modular Wire Partition
Hinged or Sliding Door Options
Warehouse Security Fencing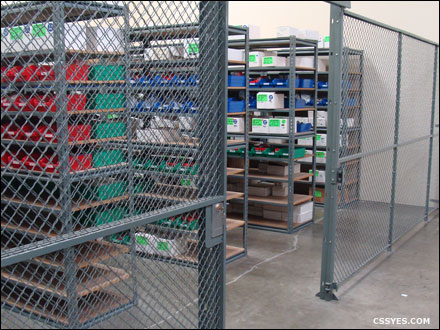 We can design custom fencing panels to fit your requirements.
Attractive and secure, this system is ideal for data center computer security cages, office supply and document storage, and retail theft prevention, yet still provides an easily installed solution for traditional tool cribs and warehouse security applications. in fact, This series is perfect for the majority of applications. Since most wire partition applications are 10′ or less in height, a competitive stack able system is not usually necessary and requires more time and manpower to install.
Wire Partitions for Cold Room Wall Protection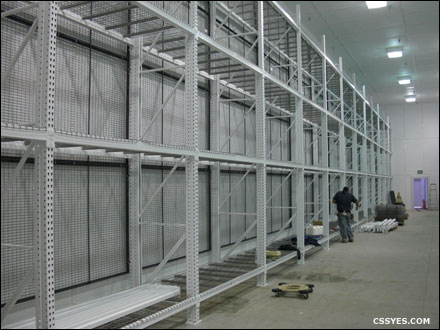 Wire partition protecting cold room wall from pallet impact.
Wire partitions can also be used to protect the rear end of a pallet rack system inside a cold room storage. This is the easiest approach to help prevent damaged on the wall in which can effect the entire cold room refrigerating system.
Fall protection wire partition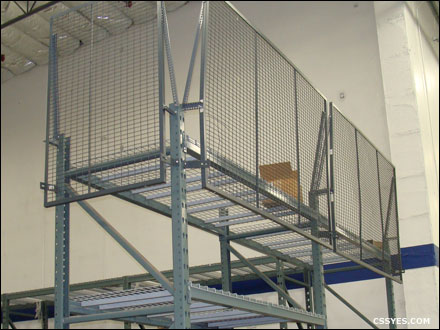 Protect loads from falling from top level beams.
Fall protection panels help prevent costly accidents in and around your pallet racks and shelving. Protect your products and personnel by preventing items from falling or shifting. Standard safety panels are readily available for quick shipment in 36″, 48″ and 60″ heights and 84″, 96″, 108″, 120″, and 144″ widths.
SpaceGuard Products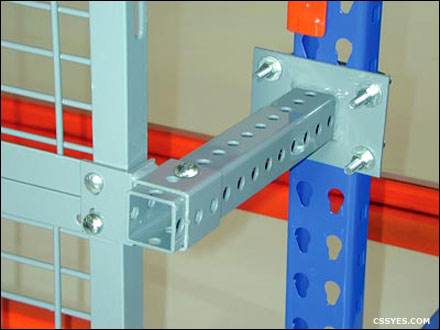 Easy installation: installs with sturdy mounting brackets, in many cases easier to install than netting alternatives.
Rack Safety Systems from WireCrafters provide essential safety for your pallet racks and shelving with simple, yet durable design – Helping to keep your employees safe and productive.
Secured Wine Storage with Wire Partition Lockers
As experts in secured storage solutions, product separation, custom fit designs and absolute efficiency, Conveyor & Storage Solutions, Inc. is the partner you need to get your job done right the first time. Along with decades of experience, C&SS is a certified WireCrafters Premier Distributor, trained with their most popular items for lightning quick turnaround and getting you the best prices for all your material handling needs. Discover more in our Case Study: Wine Storage with Secure Wire Lockers of a recent project we completed with WireCrafters wire partition storage lockers.