What is pallet racking
This is the process of handling and storing material in a warehouse in organized shelves and racks that will make it easier to find products and prepare them for shipping. Pallet Racking can help speed up a businesses efficiency and reduce lost time from locating certain items and finding proper storage areas quickly. There are two major types of racking, selective and drive-in pallet racking. Below, we will explain both styles so you can choose what will work best for your warehouse.
Selective Pallet Racks
Selective pallet racks are the most common type of racking system used in warehouses all over the world. This system is based around the idea of providing easy access to all pallets at all times. If you are in an industry where inventory is constantly shipped and restocked, this may be the best system for you. There are two configurations of the selective style: roll formed and structural. In roll formed, pallets are stacked on horizontal beams that use mounting clips to keep them in place. This is a good system if a warehouse has a wide variety of sizes in their inventory. The structural system is more common in businesses where weight is an issue. These beams are attached with upright bolts and boast a much higher load-bearing capacity.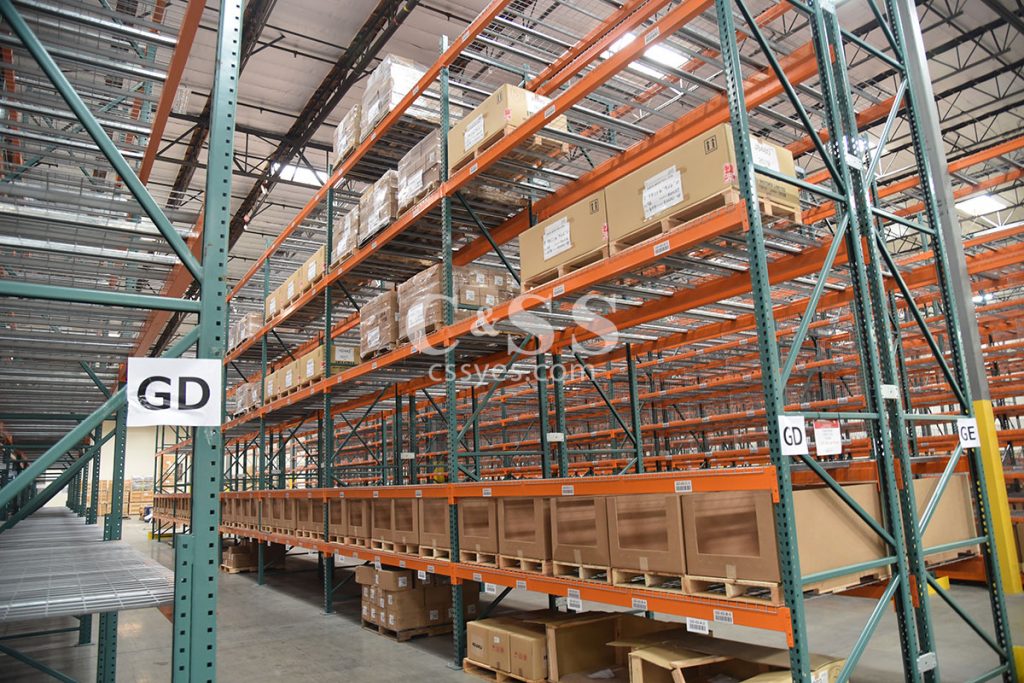 Drive-in Pallet Racks
Some warehouses refer to this type as the drive-thru process. These stacks are made to allow forklifts to easily drive up to them and remove or install loads between the racks. Drive in racks will allow forklifts to only drive in one side of the rack and exit, while drive-thru racks allow forklifts to enter from one side of the racks and exit out the opposite end. Drive-in pallet rack systems are more common in business that use the last-in, first-out method as the forklift can only come through one entrance. This differs from drive-thru systems that allow for a first in, first out, method where a pallet is put in on one side and taken out and through the opposite side.
Safety with your Pallet Racks
Pallet racks are reliable and come with heavy-load bearing clips that will secure all of your inventory and protect your warehouse staff from injury. When you assemble your pallet racks, you can review the safety information and determine the best way to instruct your crew on loading and unloading of pallets. Most assembly instructions will offer recommended methods of loading and unloading to make the instruction process simple and quick, minimizing downtime in your warehouse.
Why Pallet Racking is perfect for your warehouse
Keeping up with an inventory in a warehouse can be stressful and cut into valuable work hours. It can sometimes feel too overwhelming to start organizing a warehouse once it has gotten out of control. However, a good system of pallet racks will allow your warehouse to reorganize and become more efficient through practical solutions. The operation of forklifts can greatly increase the speed of your business and with a drive-in method of pallet racks. With a little bit of planning, you can actually construct your warehouse in a manner that will allow for speed and efficiency, as well as safety. Contact Conveyor and Storage Solutions for a set of pallet racks and inquire about which system will work best for your warehouse and industry.