Description
WireCrafters Bike Stacker
The WireCrafters Bike Stacker is a dynamic storage rack that offers users an efficient and simple way to store multiple bicycles. This is a great option for families, couples, or individuals living in tight spaces. Many condominiums, apartment buildings, and even some homes don't have sufficient room for multiple bikes.
Making Use of Limited Space
You can easily store up to 14 bikes in only an are of around 8 feet. Don't mess with a cluster of bicycles ever again.
Built Sturdy
This rack is made from 16- and 14-gauge steel for maximum strength and durability. It is able to withstand wear and tear from everyday use.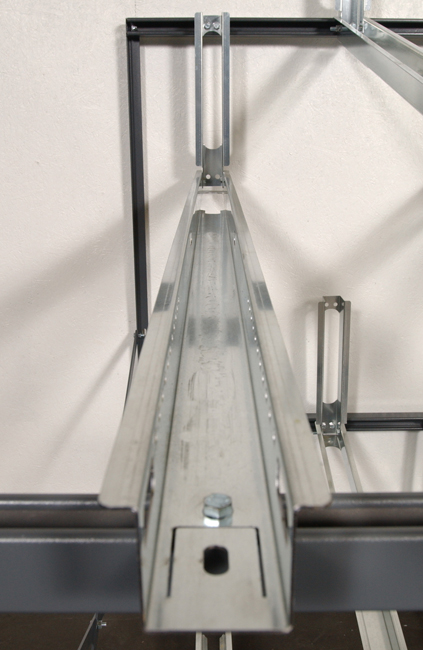 Incredibly Simple to Use
Adding bikes to this rack is a simple process. All you have to do is place your bicycle into a storage tray and push it forward. The bike's front wheel will fall into a tire slot for secure placement.
Storage Solution for Multiple Bicycles
With an increasing concern for the environment, more and more people are starting to use bikes for an alternative form of transportation rather than for fun. This is especially true in larger cities. Apartment buildings and condominiums that were built a few years ago weren't constructed with this change in mind. Therefore, many are struggling to find room to house bikes for many of their residents. This storage issue is a major issue for buildings that have many floors without any elevators. This bicycle stacker is a great way to maximize storage while being faced with limited space.
Bike Stacker Dimensions and Capacity

* Note: An 8′ ceiling height is required to store full size bicycles on the upper level raised bike trays.
Reducing Carbon Footprints and Increasing Storage Room
This WireCrafters bike stacker couldn't make it easier for apartment and condominium dwellers to store their bikes without any hassle. Gone are the days of lugging your bicycle all the way up to your apartment. If you were worried before about leaving your bike in the hallway, you don't have to worry about that either. With this racking system, your bike will remain stored, secure, and compact.
This bike storage rack is comprised of heavy-duty steel and angles that are 1/8″ thick. The formed, staggered trays hold multiple bike designs in an upright position while also offering additional clearance in between each stored bike in order to prevent unnecessary damage. Each tire tray has an exclusive tire slot that is in the shape of a teardrop. This shape is pending as a patent. These slots also hold mountain, racing, and road bikes in place. It's simple to adjust the tray spaces if you have a reason to do so. Once the bikes are stored, you can secure them with a lock. There are optional pins that help to store bikes that are of unusual size.
The Perfect Bike Solution
This racking solution is perfect for commercial, institutional, or residential bicycle storage. The system can be integrated into nearly any existing space as long as there is enough room. We offer nationwide installation services, but you don't need any special tools to do it yourself.
Features:
Accommodates multiple types of bicycles, except for tandems
Double-tier structure holds more bikes than normal storage options
Formed, staggered bicycle trays offer additional clearance in between bikes
Great for commercial, residential, and institutional use
Users can secure their bike with a lock to the tray
Trays are built from 16- or 14- gauge steel
Exclusive and patent-pending teardrop slot holds all types of tires in place
Upright racks are comprised of 1/8″ steel angles
Horizontal racks are comprised of 14-gauge channel formed from steel
Available stop pins can be placed behind back wheel to secure bikes in place.