Description
WireCrafters Garage Storage
If you live, own or manage a condominium or apartment complex, you know that adequate garage storage is always a scarce commodity. Quite frankly, there's never enough. Quite often it is the leading complaint of tenants and owns alike. If you're the landlord or property manager, you know that not only is this a common complaint, convenient and lockable storage units are something tenant are often willing to pay for.
Secure storage lockers can be easily installed and then rented to tenants or sold to condominium owners. If storage space is at a premium, consider adding storage lockers to turn unused space to a revenue-generating benefit. These lockers can be installed and take up virtually no floor space. They are a quick and easy ceiling installation.
Garage and Storage Lockers Brochure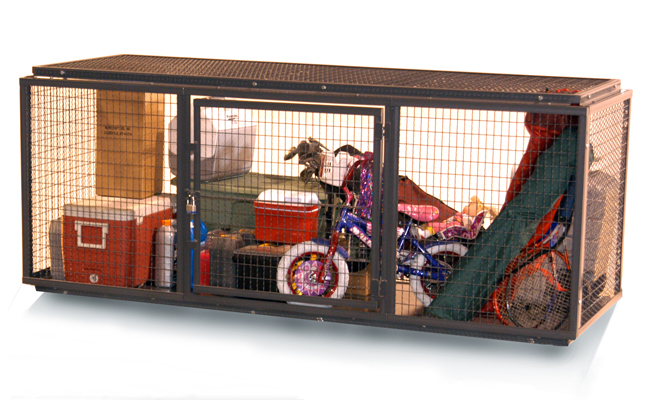 When installed on the ceiling, these lockers will fit above large SUVs and cars alike. Because closet and storage space inside a condominium or apartment is limited, lockers like these are desired by tenants and unit owners alike. Sporting goods, bulky and seasonal items will have a convenient home. Units can be installed next to each other in a row against a wall, or be ceiling mounted above assigned parking spaces.
Constructed of 13-gauge steel and 10 gauge welded mesh, these lockers come in a standard 8'x3'x3' size. There are other custom sizes are available. The lockers are constructed so the contents are completely enclosed and include ceiling panels for additional security. Lockers can be installed close to the ceiling when space is a consideration.
These cabinets offer a choice of hinged or sliding doors. This means the entire front of the locker can be opened and the contents are easily accessible. The units have a solid bottom and feature a padlock lug for the user's security.
These garage storage lockers are easily installed. When a schematic of the garage is available, a layout of these storage lockers can be developed. Because of the mesh incorporated into the unit, the owners and the building manager can both see what is being stored. This will avoid problems created by the storage of dangerous compounds. The mesh construction will also not interfere with the operation of lighting, ventilation and most importantly, fire suppression systems. They are easily assembled using hand tools.
Features:
Basic standards include a choice of sliding or hinged doors with padlock lugs installed. The door hinges are welded securely to the frame. A 2"x" welded mesh screen is used in the construction of the door. The mesh itself is constructed from 10-gauge steel. The bottom of the cabinet is 16-gauge metal. This construction allows air circulation within the unit and content visibility.
Finish frame is 13-gauge steel and the outside dimension is 8'x3'x3'. Support brackets for these units are 1-1/4"x1-1/4" steel angles. Hardware is included and the cabinets finished in a gray powder coat finish. These cabinets are stable and secure.
When these cabinets are installed, stacks and piles of items being stored in corners and on floors disappear. Owner and tenant satisfaction with the storage system is high and the appearance, safety, and security of the garage area are improved.