Description
Western Pacific Storage Solutions Industrial Structure Solutions Break Rooms
We are proud to work with well-respected Western Pacific Storage Solutions in order to provide straight-column systems with rigid frames that help to take the annoying bounce out of office floors to make them more computer friendly. There is nothing more frustrating than having a laptop or keyboard bounce with each tap of the keys. These systems can provide increased comfort and rigidity for every use. Whether your workers are taking a quick break or getting some much-needed work accomplished, these industrial structure solutions break rooms can offer a strong and functional area above the factory floor.
Industrial Structure Solutions Brochure Platforms and Mezzanines
Industrial Structure Solutions Brochure Free Standing Mezzanines
Some supervisors even find this to be the perfect option for adding visibility on the factory floor. In many industries, it's important for supervisors to have a 180-degree view of the entire area of operation. With a mezzanine (work platform) and staircase, workers have a suitable observation deck along with the break room space. All of the framing members have been cold formed with G60 galvanized steel that has 50,000 PSI of minimum yield.
Painted Square or Galvanized Columns:
The square columns measure a sturdy 9″ and have been welded firmly to a baseplate measuring 14″ x 14″ x 1/2″. These baseplates have been secured with wedge and epoxy anchors for additional support. You'll have to check the requirements of your particular city for embedment and type.
The beams come in "Z" or "C" shapes with sizes of 20″, 16″, or 12″. They are typically 12 or 10 gauge. Connections between each beam have been made with sturdy 3/4″ bolts that are non-galvanized for the specifications of the manufacturer.
Struts come in a "C" shape with standard sizes of 20″, 16″, 12″. They are either 12 or 10 gauge. The connections between the struts have been made with HD bolts. The joists also come in a "C" shape with sizes of 20″, 16″, 14″, 12″, 10″, or 8″. These joists can be 10, 12, or 14 gauge. The connections between these units have been made with clips "L-shaped" clips and bolts measuring 5/8″.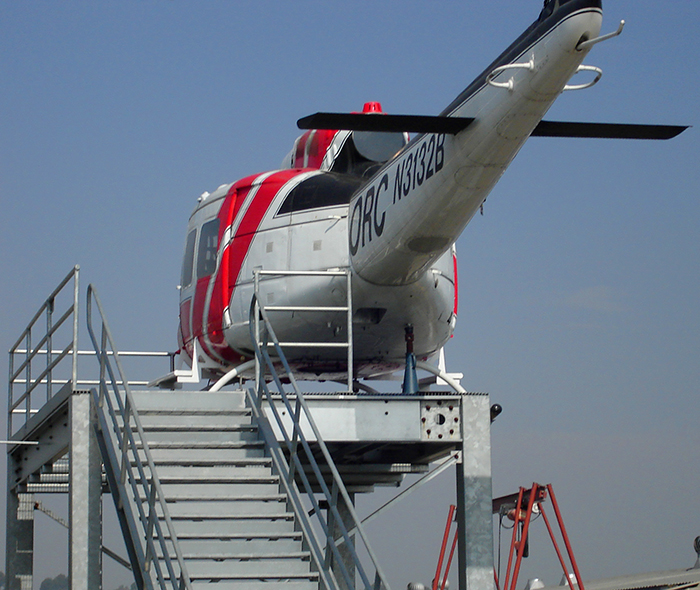 Decking Options:
The Wood option comes with 1.125″ or 0.75″ fiberboard over a galvanized B-deck with a 22, 20, or 18 gauge. This option is secured with #9 Tek screws with a bugle head and #12 standard Tek screws.
The Bar Grating system comes with a painted bar grating or standard galvanized option secured with saddle clips and Tek screws.
The Plank Pak solution comes with a non-skid surface with a measurement of 2″ x 9″. This surface has been galvanized and comes with embossed dimples for greater traction. This system is secured with j-clips, j-bolts, and Tek screws.
The Diamond Plate option comes with a plain diamond, painted, or galvanized plate that is placed over a galvanized B-deck. This solution is secured with truss head screws and standard Tek screws.
With the concrete option, a form will be installed with Tek screws and then filled with concrete.