Description
WireCrafters Pallet Rack Enclosures
Pallet rack enclosures help to secure inventory while also making sure the inventory doesn't shrink over time. WireCrafters has designed and manufactured pallet rack enclosures to fulfill these specific functions. Security officers have shown their preference for our style 840 partition systems for keeping valuables secured on pallet racks or in bulk storage. Any existing pallet racks can easily be enclosed when surrounded by doors and mesh panels to control and secure valuable inventory. Wire mesh panels of modular size are very easy to install. These units are also stronger and more robust than other competing enclosing systems.
Our pallet rack enclosures give users the ability to prevent theft of valuable items by controlling access. The complete rack enclosures will consist of doors in the front, and mesh panels atop the rack, on the ends, and on the back.
Pallet Rack Enclosures Brochure
Details and Specifications
The doors and panels used by WireCrafters are manufactured with a 10-gauge wire that is welded to a square mesh measuring 2″ x 2″. Enclosure end panels get connected to the ends of pallet racks with angle clips that have a flush mount. In order to separate more than one bay, these end panels get manufactured with flat frames that allow each panel to get attached to the end of the pallet rack with special self-tapping screws.
Some back panels also get attached to this rack with specific angle clips. WireCrafters can use three varying mounting clips which allow for an offset that can range from a flush mount to 6″. With these mounting clips, you can have a pallet load overhang without sacrificing safety and security for workers. WireCrafters makes sure to manufacture panels that have an identical width as your beam to give your organization or facility maximum security for inventory and products being sored in the pallet racks.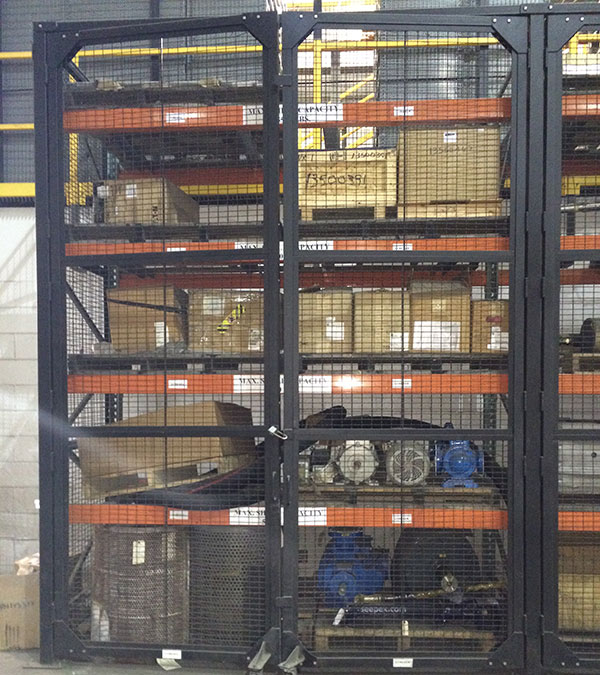 Keep Your Inventory Secure with Pallet Enclosure Doors
Doors will be necessary for the front of storage enclosures that you want to develop from existing racks. Fortunately, almost any bay of pallet racks can easily be converted into a storage area. WireCrafters develops stock doors that come with double hinges. The yare 10″ in height and 8″ in width. These stock doors can be bolted directly onto the uprights of the rack with basic hand tools. These enclosure doors also come with a secured padlock lug. WireCrafters will provide doorposts that attach to the uprights on the rack directly for oversized doors.
Sliding doors are perhaps the most popular form of enclosure door for pallet racks. Sliding doors easily mount to the rack uprights and are comprised of sturdy material. These doors can mount atop a double-track version to allow a door to slide away from another door. In contrast to double-hinge doors, these sliding doors don't use a lot of aisle space. They are great for warehouses with a limited amount of clearance in their aisles.
Key Features:
Panels come in standard sizes with 4′ or 5′ of height to match the length of the beam in width
Panels constructed with 10-gauge wire mesh measuring 2″ x 2″
Other meshes are available
Panels get framed in steel angle made from 13-gauge steel measuring 1 1/4″ x 1 1/4″
Panels get attached to rack directly with sturdy mounting brackets
Seven mounting points on the ends of every panel
Panels can be stacked on top of each other for desired height
Choice between double-hinged or double-sliding doors to access racks
Construction of welded wires allows for modifications that can appear factory-finished
Panels can mount to supporting posts for stand-alone systems
Additional System Components:
Secured Wine Storage with Rack Enclosures
As experts in secured storage solutions, product separation, custom fit designs and absolute efficiency, Conveyor & Storage Solutions, Inc. is the partner you need to get your job done right the first time. Along with decades of experience, C&SS is a certified WireCrafters Premier Distributor, trained with their most popular items for lightning quick turnaround and getting you the best prices for all your material handling needs. Discover more in our Case Study: Wine Storage with Secure Wire Lockers of a recent project we completed with WireCrafters wire lockers and rack enclosures.