Description
Tenant Storage Lockers
If you own a multifamily building like an apartment complex, you may need to help your tenants store their personal belongings in a safe and secure manner. WireCrafters offers a RapidWire line of all steel welded wire tenant storage lockers to meet these needs.
These customizable lockers reduce clutter, which maximizes the use of available space. Building owners should know they may recoup all installation costs in less than 12 months. Because landlords may continue to rent the storage lockers to their tenants, recouping the costs becomes easy.
Tenant Storage Lockers Brochure
A Secure and Simple Storage Solution with Added Features
We make these lockers from 10-gauge wire in 2 inch by 2 inch square welded wire mesh. Then we weld the mesh into a 1 ¼ by 1 ¼ by 13 gauge rolled formed angle. The locker features an open design, but it remains secure. The locker's layout also increases ventilation and lightning. In addition, the design allows a fire suppression system to function without interruption.
Choose from Two Styles
WireCrafters offers two styles of tenant storage lockers – the single-tier walk-in and the double-tier option. Both types of lockers include padlock lugs. Tenants buy their own padlocks. If needed, we offer a three-point lock that has a keyed cylinder, which comes built-in.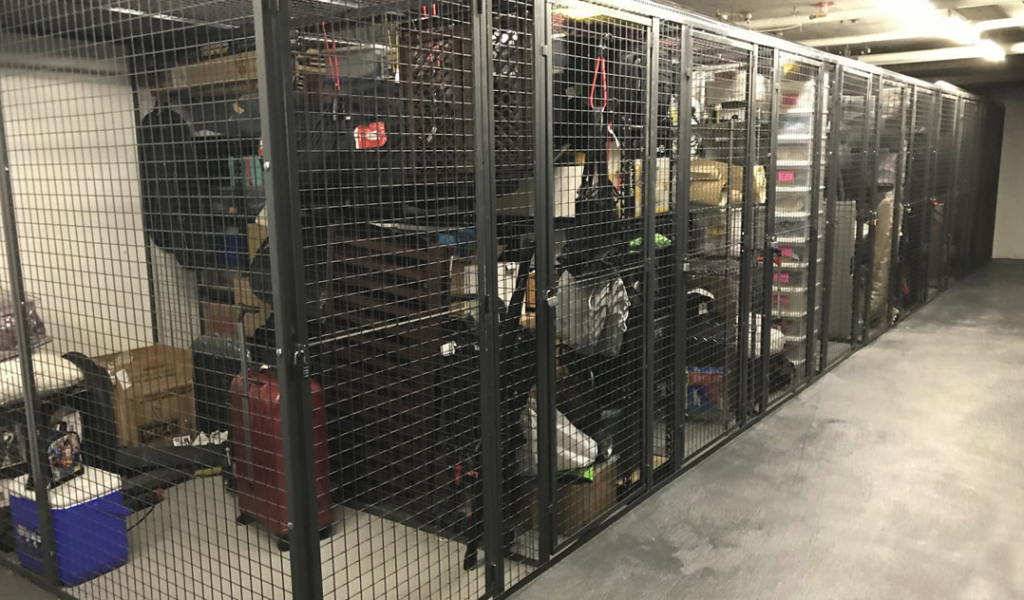 The single-tier type is the most popular option. Those have a 3-feet or 4-feet wide door, with the door's depth ranging in size from 3 feet to 4 feet or 5 feet. The common configuration comes with a standard height of 7 feet by 6 inches high. The single-tier locker offers a generous amount of storage space, and the product is ideal for storing belongings that are no longer in season.
We recommend our double-tier option for properties that lack space but want to accommodate occupants requiring more storage. While the width is the same for both types, each double-tier locker has a height of 3 feet by 9 inches, making for a total height of 7 inches by 6 feet.
Get the Flexibility You Need
We want to make your installation as easy as possible. That is why our storage lockers have a modular design. Doors come pre-hung and the hinges arrive welded. Four bolts attach each wall panel to the door one. In addition, you may alter welded wire during the installation process, allowing you to work around items like water pipes, heating ducts and electrical outlets. You do not need to worry about damaging the locker panels. We weld the wire at every intersection point.
The Specs and Features:
Welded mesh ensures you have the ability to make changes during any install – you are always protected from any unknown obstructions.
Our two basic styles allow for a variety of multifamily needs.
We keep stock sizes on hand – sizes come in 7 feet by 6 inches tall, a width of 3 feet or 4 feet and a depth of 3 feet, 4 feet or 5 feet.
If you need a non-stock option, we provide that too.
The padlock lugs and door strikes come with our tenant storage lockers.
You may choose a recessed key lock or three-point lock.
We use industrial grade materials.
Use each locker individually or use them as a group.
We do not limit you to one style – mix and match to meet your needs.
We make the installation process easy as each locker only has a wall panel and door panel to connect.
WireCrafters provides free layout service – provide a sketch of the room and tell us the number of lockers needed.
We include erection and approval drawings with each order.
Additional System Components:
Secured Wine Storage Tenant Lockers
As experts in secured storage solutions, product separation, custom fit designs and absolute efficiency, Conveyor & Storage Solutions, Inc. is the partner you need to get your job done right the first time. Along with decades of experience, C&SS is a certified WireCrafters Premier Distributor, trained with their most popular items for lightning quick turnaround and getting you the best prices for all your material handling needs. Discover more in our Case Study: Wine Storage with Secure Wire Lockers of a recent project we completed with WireCrafters tenant storage lockers.