Description
RiveTier Multilevel Systems
RiveTier Multilevel Systems come with a host of advantages which can help improve any company's efficiency, productivity, and overall workflow. These systems will help to maximize the amount of cubic space available by making the existing space more efficient. With modular designs, each work platform can easily be expanded or moved to meet the changing needs of your warehouse. Our engineers have used designs approved by IBC/BOCA and OSHA to offer users unobstructed access to their products. Every RiveTier multilevel system can be customized to meet the unique needs of each company. Buyers can choose from Z-Beam, Low Profile, and Long Span systems.
What sets RiveTier apart from the competition
RiveTier was established as a leader and avant-garde in the market with the creation of the RiveTier 1. Before 1968, the industry was dominated by archaic frame systems. These older systems didn't help increase efficiency or productivity. RiveTier set out to eliminate the need for these frame system with the thoughtful design of RiveTier 1. Our designers and engineers have continued to construct dynamic solutions for the market ever since the release of RiveTier 1.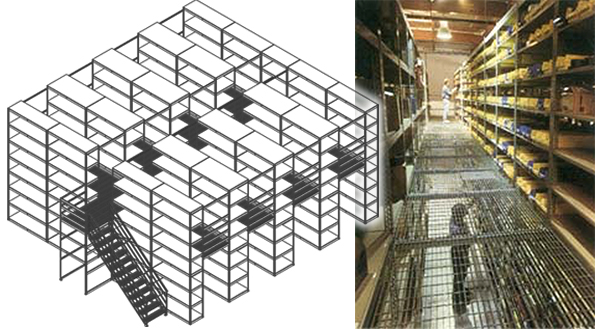 Here are a few reasons to work with RiveTier:
RiveTier is followed by the rest of the industry in terms of innovation and creativity
Our T-posts offer an economical and efficient solution for all of our systems
Each shelving solution is free of cross bracings to offer access from every angle
Every major component is constructed from thick steel
We have four different beam styles to handle different kinds of capacity requirements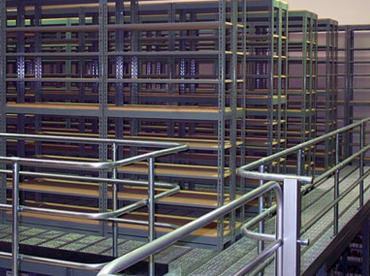 What is the Installation Process Like
RiveTier Multilevel Systems are designed for a quick and easy assembly. Everything users need for the setup process is shipped in one, organized bundle. Unlike other systems, there is no need to use extra tools or equipment when setting up RiveTier products. A rubber mallet is the only tool required in the entire assembly process. This efficient and simple setup process is made possible by the boltless connections with which these systems are designed. RiveTier Boltless Shelving only takes a few minutes to set up and take down.
What else is Special about RiveTier Designs
The all-new intermediate posts from RiveTier can greatly reduce installation time. The T-post was recently added to the RiveTier III system by our dedicated engineers and designers to help make the assembly process even easier. In the past, customers had to use complicated tie plates with two LURH posts. Although this system was sturdy and reliable, it cost a lot of time, energy, and money to assemble. With RiveTier III's T-post, customers can skip all of this hassle. These intermediate posts are even interchangeable with products from other manufacturers. However, working with Western Pacific can drastically reduce delivery headaches and other potential worries.
What Should be Done about the Vertical Clear Opening
The shelf beam's profile is going to affect the vertical clear opening that lies between each shelf level.