Description
WorldPallet Wire Mesh Pallets
WorldWide Material Handling is well-known for their WorldPallet wire mesh pallets product. WorldPallet works well with closed-loop and in-house pallet distribution systems. WWMH makes their pallets from steel wire mesh because the material is stronger than wood, and wire mesh holds together better. In addition, they ruled out plastic because it costs more, has less versatility, lacks the strength that comes with steel mesh, and plastic becomes prone to cracking.
Furthermore, WorldWide Material Handling designed their product to become the standard of what a worldwide mesh pallet should look like. WWMH designed these wire mesh pallets to work with a wide variety of applications that require the quality and durability that steel provides. This product allows you to easily move items in and out of your warehouse, making for a more efficient logistical process.
If your warehouse or distribution center currently uses disposable pallets or traditional ones, we encourage you to upgrade to our WorldPallet and select the features you need. You will see why many companies have called this "the pallet of the future."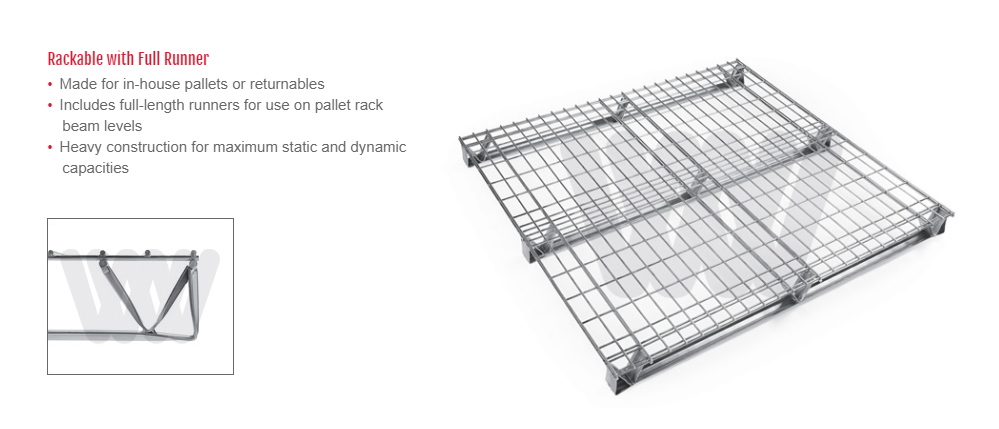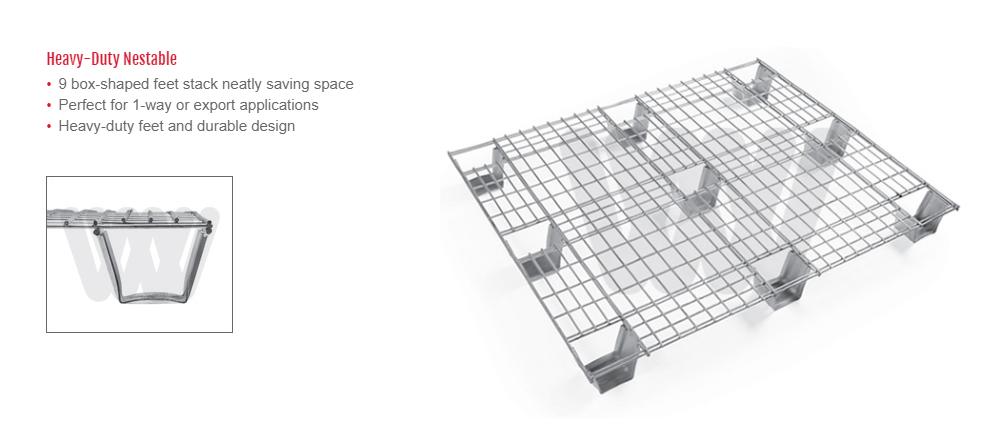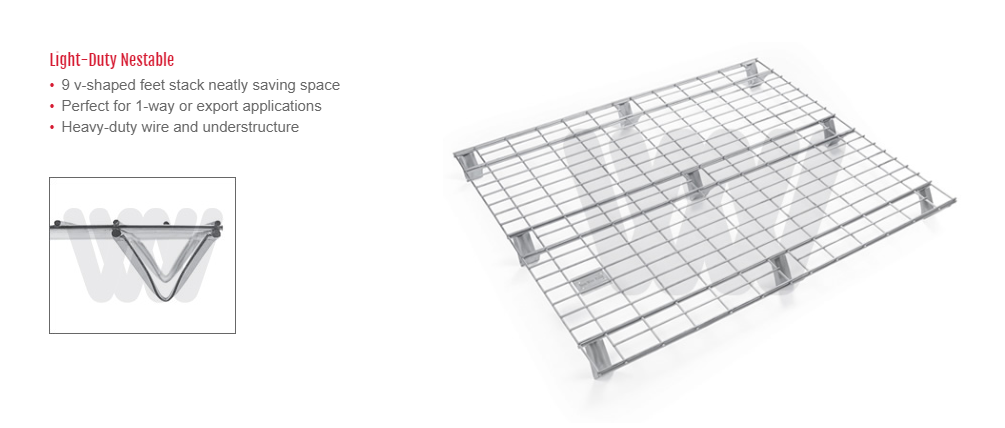 Features and Benefits of Using WorldPallet
They make our product from heavy gauge; it contains a wire mesh design, which we weld together.
These pallets are electrogalvanized with a finish made from zinc.
WorldWide Material Handling makes the product eco-friendly, affordable and reusable, which ensures you get the most usage out of our pallets.
WorldWide Material Handling designed the pallets to work with manufacturing and warehouse applications.
If you need an in-house pallet, look no further than our wire mesh pallets.
WWMH offers stock sizes and custom designs to fit all needs.
Rackable Pallet Comes with a Full Runner:
Use this product with in-house pallets or with returnable ones.
The product comes with full-length runners, so you may use them on every needed level of a pallet rack beam.
WorldWide Material Handling uses heavy gauge steel, which warehouses and other manufacturing sites use when they need wire mesh pallets designed for dynamic capacities and maximum static.
Light-Duty Nesting Pallets for Stacking:
These come with 9 v-shaped feet – they are perfect for stacking items and for when you need to find additional space-saving solutions.
These work as export applications or as a one-way application.
These pallets have a strong understructure, along with durable and secure gauge steel for the wires.
Heavy-Duty Nesting Pallets for Stacking:
These come with 9 box-shaped feet – they are ideal for neatly stacking items while saving valuable warehouse space.
WorldWide Material Handling built these to support one-way or multiple export applications.
These pallets feature a reliable and strong design, along with heavy-duty feet. We make these feet from a 2-piece welded mold. Storage facilities and warehouses prefer heavy feet when they need to use the product with an even heavier application. Heavy-duty feet better product against forklift damage when compared to using our standard feet.