Boltless Shelving Miramar Blowout Sale
It doesn't make much sense to spend a lot of money on new warehouse boltless shelving system when the same style of industrial shelving is available as a used item. Nobody is going to pay extra for your products just because they sit on shelves that don't have a single scratch in them. Used storage systems are sometimes the better choice when it comes to warehousing, but now is an especially good time to look into adding some top quality steel grade shelving since it is currently on sale.
Boltless Shelving Specs:
36″ wide x 12″ deep x 72″ high
6 levels per section of shelving
Boltless design, no need of hardware
5/8″ Particle Board Decking
Warehouse Shelving with Adjustable Levels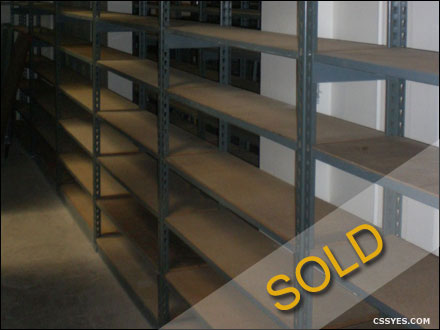 Entire warehouse shelving system for sale roughly 100 sections.
This is not a case of clearing out the crummy stuff from the back of the scrap bin, either. Instead, this is roughly 100 units of high quality boltless shelving that is available at our Ramona, CA facility on a first-come first-served basis to our local customers. Anybody in the greater San Diego area who has been considering expanding their storage capacity with quality steel shelving should jump at this rare opportunity. Boltless shelving like this is usually gone in a flash, often before we can even get it listed in our inventory.
Professional Shelving Installation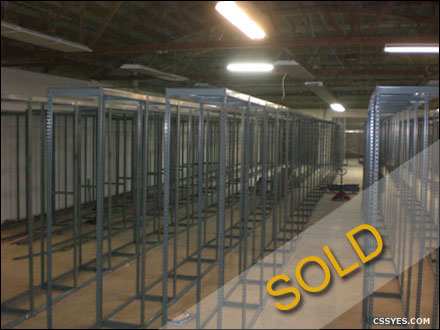 Although these shelving are easy to assemble, professional installation is recommended when creating a storage system.
As a special promotion, however, we are holding off on selling this particular lot of industrial shelving until this offer is posted on our website. As soon as it hits the Internet, however, interested parties need to fill out our (RFQ) form on the left side of this page and a sale rep will reply within a day. There are no secret catches to this offer. Buy it and assemble it yourselves, or buy it and let our staff of experienced materials handling installers carry out proper industrial shelving installation. This is the best way to maximize your storage by laying it out and putting it together for you.
Used Boltless Shelving in San Diego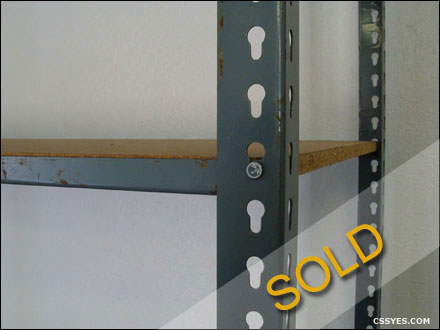 Full inventory of new shelving also available for customers in other areas beyond San Diego county.
Of course we also carry a full inventory of new boltless shelving in stock and ready for immediate pickup or delivery from our network of local distribution centers. Regardless of whether you need a few pieces to expand an existing shelving system or want to reconfigure your existing space to take the fullest possible advantage of the square footage you are already paying for, we can certainly offer you an affordable and convenient solution.