During November and December of 2010, we will be getting roughly 500 sections of pallet racks, including 22' high frames and 8' long step beams. All of the rack is heavy duty and in "almost new" condition.
Manufactured by Hannibal in Los Angeles, this teardrop style pallet rack is the most common type found in California. Use this opportunity to save money during your next warehouse relocation or storage expansion. We are a full service material handling company offering complete turnkey system.
Pallet Rack Specs:
All of the rack is Hannibal teardrop style
Frame size is 22' high x 42″ deep
12 gage steel with seismic footplates
Can be customized to 10' and 12' high uprights
Beam size is 96″ long and 4″ high
42″ Galvanized 2,000 lb Cap. Pallet Support Bars
Standard step size for support bars and wire decks
Can support heavy duty capacities
All materials are in excellent condition
---
Commercial Warehouse Relocation Services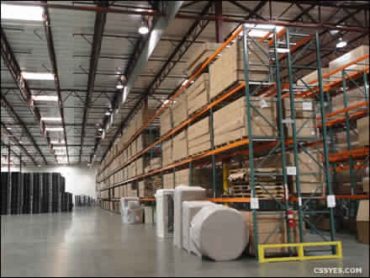 Make your corporate relocation a safe one
We are fully insured to deliver and install your warehouse rack system. All of our experienced installers are 10 Hour or 30 Hour OSHA certified, making us the safest material handling company in California. Safety is our #1 priority during each warehouse relocation project.
---
Dynamic Storage Solutions with Pallet Racking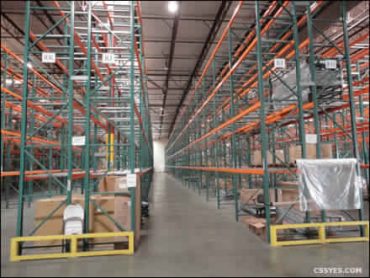 Optimize storage with different kinds of pallet racks systems.
Warehouse rack systems can be designed for selectivity, making each pallet position easy to locate and quick to access. Density driven rack systems, such as double deep pallet racks (2-deep systems), can be configured with back-to-back rows, and are accessed by a reach forklift truck. Dynamic storage solutions and can double the storage capacity of selective racks.
---
Warehouse Space Planning for Material Handling Systems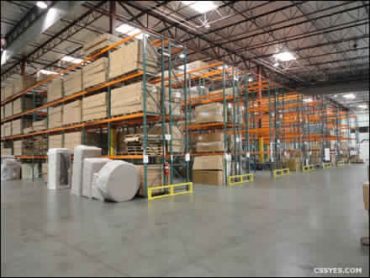 Layout and elevation drawings available using AutoCAD
Warehouse space planning is a crucial element when expanding your storage system. During your expansion or relocation, figuring out the most efficient layout requires evaluating available warehouse space, product characteristics, and operational requirements.
---
Corporate Relocation Company, Service & Solutions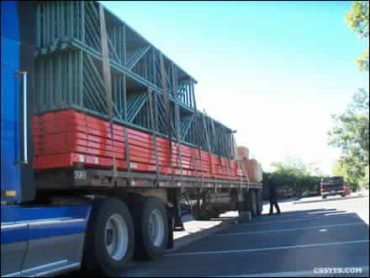 We are a local contractor with years of experience
Conveyor & Storage Solutions has been assisting companies with their relocation projects since 1992. We have assisted companies throughout California with moving and relocating their storage systems. Along with our complete line of services, we offer competitive pricing on all of our used materials handling equipment including pallet racks, catwalks, industrial shelving, conveyor systems, and storage mezzanines.
---
Pallet Rack Frames, Beams, and Support Bars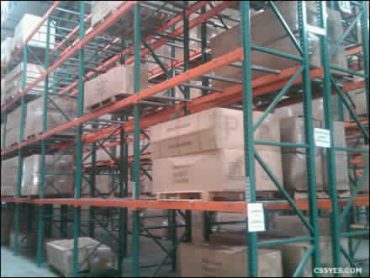 Complete pallet racks systems with many options.
---
Pallet Support Bars to Replace Existing Solid Decks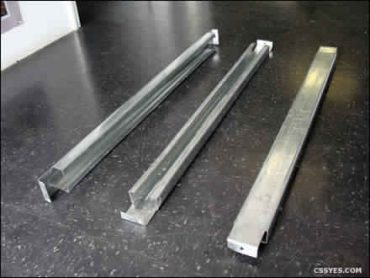 Galvanized pallet support bars 14 Gauge 2000 lb capacity per pair.
We carry a full line of warehouse racking including all the pallet rack accessories. To ensure safe storage, we offer metal pallet support bars and wiremesh decks. Both require minimal installation and provide an extra level of security at a cheap price. To protect your pallet rack uprights from forklift damage, we carry column protectors and end-of-row guards.