Boxes, cartons, and other warehouse goods can be palletized in various heights, depending on product characteristics, weights, and sizes. Standard GMA pallets are 40″ wide x 48″ long. When product is palletized, and is wider than 40″, it is often called a "wide load" pallet, or a pallet with product "overhang".
Selective pallet rack has the flexibility to adjust beam level heights, allowing many configurations to accommodate these palletized goods. For most warehouse rack, beams levels can be adjusted in 2″ vertical increments. Standard horizontal beams are 8' and 12' long, and support 2 and 3 pallets wide, respectively. For palletized product with "overhang", more uncommon size load beams are used including 9', 10', and 11' long.
---
Hannibal Teardrop Pallet Racks, in Excellent Condition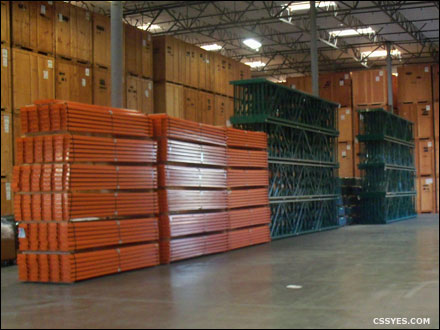 Warehouse racks can be delivered and installed in 1-2 days.
Throughout the year we buy and sell pallet racks and other used material handling equipment. Here is a short description of our most recently acquired assets:
Pallet Rack Specs:
Frames: 16' high x 42″ deep
14 gage steel with seismic base footplates, zone IV
3″ x 3″ frame columns, original green color
Pallet Rack Beam: 144″ long and 6″ high, 4 Pin Conn.
Metal mesh wiredecks: 42″ deep x 46″ wide
---
Increase Productivity by Organizing Inventory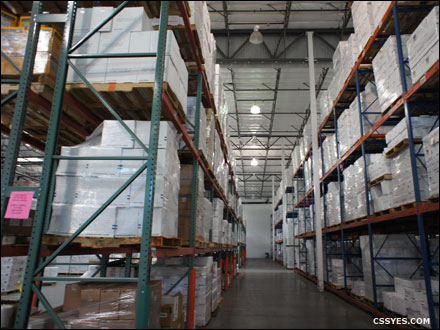 Each pallet is easy to access and has a unique SKU location.
Organized inventory can lead to increased productivity and improved throughput. Storage racks utilize the building height and add to your overall warehousing capabilities. Learn more from material handling companies in this industry.
---
Floor Storage and Wasted Overhead Space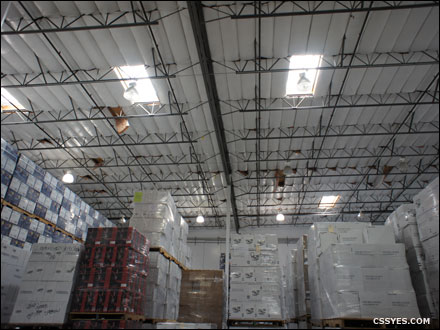 Pallets stored on the warehouse floor.
Many warehouses store their pallets on the floor. If palletized product can support the weight, pallets can be stacked on one on top of another. While this type of storage exists, most pallets are not designed to do so. Most floor storage applications require a labor intense process to access individual pallets, and are only recommended for Last-In-First-Out (LIFO) applications.
---
Shelf Decks, Wire Decking & Beam Supports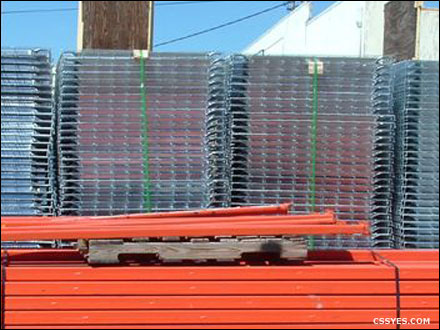 Wiremesh decks and horizontal load beams
Conveyor & Storage Solutions has been assisting companies with their relocation projects since 1992. We have assisted companies throughout California with moving and relocating their storage systems. We are a local contractor with years of experience in materials handling services.