Used Pallet Racking for your Riverside Warehouse
Pallet racking is an efficient method of organization. Pallet racking can help warehouses and companies manage their product storage in a more productive manner. These racking systems are designed with the perfect combination of durability, stability, and accessibility. Warehouses need to be able to reliably store their products without the hassle of moving a dozen items to access a required good.
Pallet racking provides companies with faster picking times and more storage within a more confined area. If you are looking to invest in a used pallet racking system in Riverside County, it's advisable to know the size of your warehouse. Pallet racking can be assembled in different heights. So when ordering used pallet racking in Riverside California you want to be able to speak with an expert about what measurements you exactly need. There are many different size warehouses in Riverside California and knowing the size of your warehouse can help you get the exact measurements for your racking systems.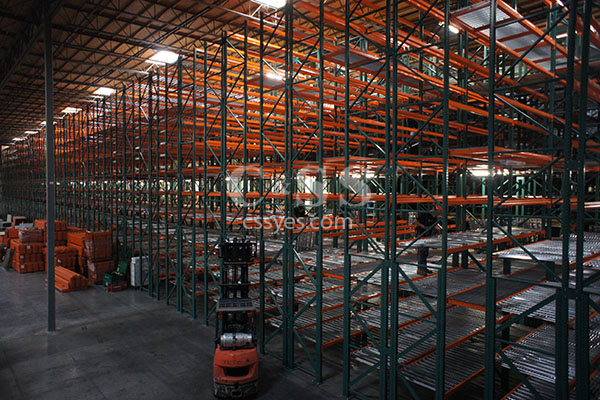 Advantages of Used Racking
Used racking comes with all of the advantages of new pallet racking, in addition to some extra benefits. Many companies make the mistake of forgoing a warehouse remodel due to the price of the renovations. New equipment can be expensive. This is especially true with regards to pallet racking. However, there is no reason to leave a warehouse running ineffectively. Used racking can perform the same job as new racking without costing a lot of money.
Other than having a shinier finish and only a few scratches, there is no inherent advantage to having a new racking system. Many companies wrongly assume that used racking will be suffering from structural problems and other potential issues. In reality, a used racking system will be just as durable as newer units. Unless the prior owner mistreated the racking system to the point of major and obvious damage, there is nothing to worry about when purchasing used pallet racking.
Where to Purchase a Used Racking System
If you're located near Riverside California, Conveyor and Storage Solutions is the best place to purchase a pallet racking system. C&SS has been operating in the material handling industry for several decades and understand the needs of our customers. All of the used pallet racks in inventory have been carefully inspected and refurbished to ensure each unit meets standard safety requirements. C&SS refuses to accept any racking system that has been damaged or repaired. Potential buyers located in the Riverside California area can rest assured that all of our used racking systems will function like new.
How to Install Pallet Racking
Once you decide to purchase pallet racking, installation is the next concern. As many of these units are of considerable size, many warehouses worry about proper installation. In addition to requiring a lot of skill and care, the installation process requires attention to detail. Conveyor and Storage Solutions understands that the average customer won't be able to install these racking systems on their own. After you purchase a used racking system from Conveyor and Storage Solutions, their dedicated installation team can even come to your warehouse location and install the system for you. Speak with an expert sales consultant about pricing (877) 227-7235.
Many companies don't realize the importance of receiving a permit for used racking. This process is followed for nearly every major piece of equipment used in a warehouse. Fortunately, Conveyor and Storage Solutions can provide the proper permits to ensure that clients don't fall into legal issues or get hit with county fines.