Description
Wirecrafters Bicycle Wall Rider
Where to store bicycles sometimes creates tension between tenants and their landlords, especially in buildings that lack space. Occupants may leave their bikes in areas underneath the stairs, in a common lobby, outside individual units or even outside. Some landlords or management companies may not have the ability to install lockers, or they may have offered all storage options to existing tenants. Once again, WireCrafters has a solution, their Bicycle Wall Rider System. This product makes use of existing walls and stores bikes vertically.
Create Another Revenue Source While Avoiding Bicycle Theft
Bicycles that pile up in a common area may create a fire hazard. Furthermore, because the bikes remain unsecured, bike owners open themselves up to theft. The wall rider system offers a fast and convenient way to store bikes. The system also has the potential to create another revenue stream. For only a few dollars a month, bicycle owners have a safe way to access and store them.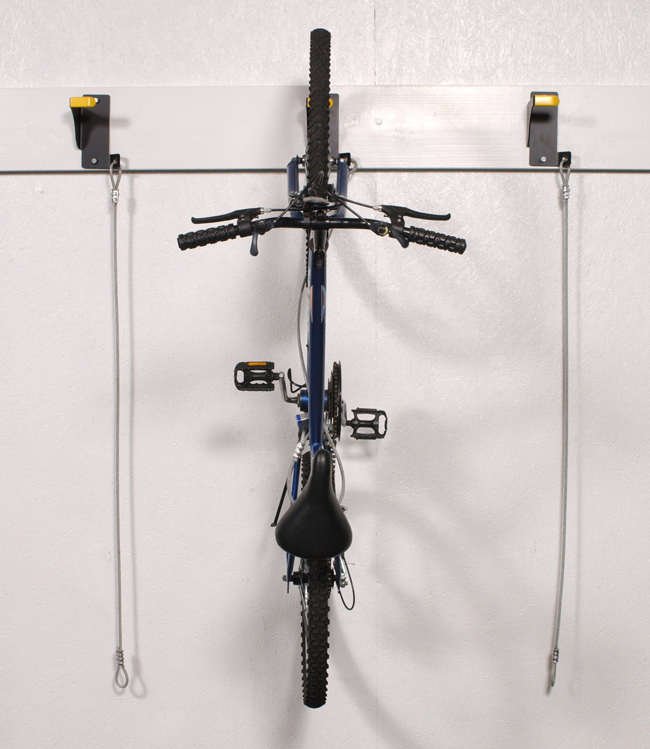 Heavy and Secure Brackets Make for Easy Installation
WireCrafters does not use unreliable plastic. We use solid steel to ensure the product handles daily use. Our brackets are made from heavy-duty 11-gauge steel, which is one-eights thick. Additionally, the bike brackets feature a 6-foot-long high-quality cable that easily connects to the mounting part. The padlock goes on the free end of the cable. To protect the finish on all bicycles, each cable comes with a clear coating made from vinyl. Brackets contain two pre-drilled holes.
If you need a different storage option, we have you covered. WireCrafters makes strong and secure 2-inch tubing systems. With the tubes, you have the ability to hang many bikes on the center of a wall. The tubes stores bikes in either a horizontal or vertical direction.
Usage Goes Beyond Multifamily Dwellings
While one may initially associate the bicycle wall rider with multifamily dwellings, this product works with most building in need of bike racks. This system easily installs in commercial, institutional and residential buildings.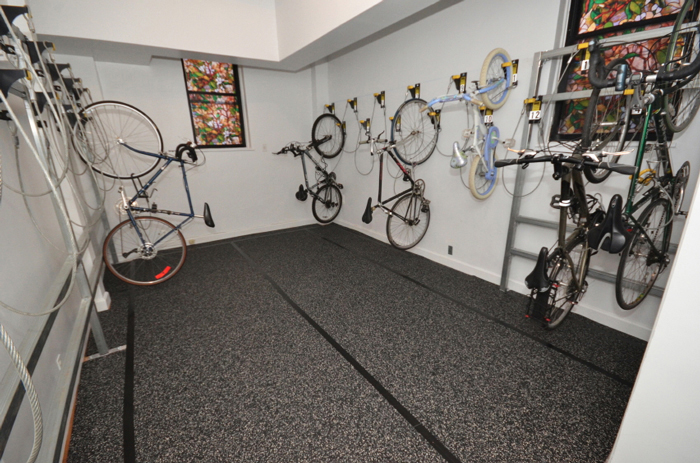 Storage Solution for Garages
Homeowners, who have cluttered garage spaces, benefit from our bike storage brackets. Garage sizes vary and those who own multiple bikes may quickly run out of space. This is especially true for families with children. Without storage, car owners may accidentally hit their bikes when leaving and entering their garages. They may need to go through the tedious process of removing their bikes before pulling out of the garages and then putting them back in their proper places. WireCrafters bike brackets have the ability to stop accidents and that repetitive process. Bicycle riders at every skill level and those who collect bicycles benefit from using this product.
You do not need strong construction skills to install this product. Once you purchase and have received the system, all you need are standard tools. Many people already have those at home, so you save money because you do not need to buy more tools. After you install the product, you will see less clutter, which may inspire you to do a thorough cleaning of the space.
Overview of the Features
This product features precision laser cut and already formed steel.
We use one-eights steel because of its thickness.
The system has two round holes, which measure one-half of an inch.
The holes come pre-drilled, which makes the product easy to install no matter your skill level.
The brackets work in commercial, institutional and residential buildings.
We supply an aircraft quality cable.
Tenants use the free end of the cable for their padlocks.
The cable's vinyl coating protects from normal wear and tear.