Description
Built from Solid, Bolted Structural Steel
Heavy Duty Pallet Rack like structural pallet racking is the strongest, most durable type of pallet rack available today. Manufactured from heavy-duty hot rolled structural steel and built to withstand the most rigorous of applications, structural racking is a testament to the sturdy nature of its core component. Having high strength, stiffness, toughness, and ductile properties, structural steel is one of the most used materials in commercial and industrial building construction. It is widely available the world over and used in just about any construction application one can think of.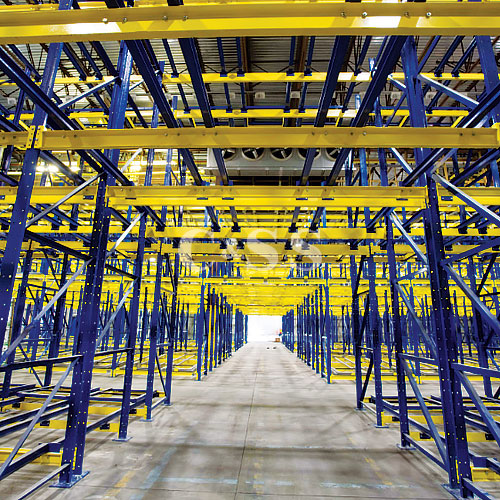 At its core, Structural Pallet Racking is a simple product. As stated previously, it is constructed of high strength steel, often using the C-channel shape. When installed, it is put together using standard nuts and bolts. This has the added benefit of lending strength to the overall design and being simple to assemble, though it is more time consuming compared to other systems. Often constructed in the form of selective or cantilever racking systems, structural pallet racking can be utilized in a wide variety of applications.
Easy to Clean, Perfect for Refrigerated Storage
Structural pallet racking carries with it some advantages over roll formed pallet rack, also known as "teardrop", due to the shape and style of connections it incorporates. It is the preferred choice in heavy-duty applications, as its load bearing capacity is much higher than that of roll formed pallet rack. While it does weigh considerably more than roll-formed pallet rack, its weight rating more than outweighs this disadvantage. It is much more resistant to rust and environmental degradation, and as such is often chosen for outdoor storage applications. Galvanizing or powder coating is much more easily and cheaply applied to structural C-channel, aiding it in environmental toughness and corrosion resistance. Easily washable, it finds a home in many food and beverage storage sites, cutting down on pest infestation and general cleanliness.
Well Suited to High Seismic Locations or Outdoor Applications
Warehouses located in earthquake prone areas also prefer heavy duty pallet rack due to its high resistance to the shearing forces and damage from seismic events. It should also be noted that its impact resistance is unparalleled when properly anchored. Its heavy steel construction can take decades of abuse without the need to constantly repair or replace components due to forklift or truck impacts.
With years of experience in structural steel, Hannibal Industries Material Handling has not only the know-how but the manufacturing capacity and engineering background to tackle virtually any job requirements with products that are built to last. With value-engineered designs for an ideal configuration specific to customer needs and storage space, Hannibal's structural steel pallet racks maximize the weight storage footprint ratio to provide an economical, efficient storage and retrieval system. In addition, all-structural steel fabrication ensures a long life for your storage investment.
High Impact Resistance For Decades of Service
Structural steel pallet racking is often used on a variety of applications aside from standard selective racking. Hannibal's lineup of pallet racking systems including Cantilever, Push Back, Pallet Flow and more can all be constructed with structural rack, lending strength, rigidity, and durability to any application. Consulting with a design/build firm like Conveyor & Storage Solutions, a Hannibal Master Dealer, ensures a custom-fit design for any warehouse or storage need, incorporating structural steel and many other need-specific elements to get the job done right.