Description
Custom Design at an Affordable Price
Integrated storage rack systems are typically custom designed units. Custom design often speaks to high prices, long wait times and a lot of headache. While this is often the case, this is not true with hybrid storage rack. In fact, these integrated storage rack systems can be even more affordable than standard pallet rack setups while still affording the benefits of more expensive designs. A breakdown of its core components provides a better understanding as to how this is accomplished.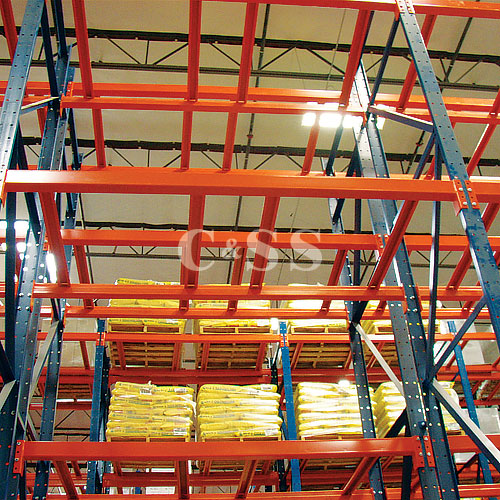 Pallet rack is, for the most part, comprised of two similar but different materials. The first is roll-formed rack, built and designed to handle almost all light to medium duty loads in warehouses the world over. Roll-formed pallet rack is a medium to light duty boltless multi-level storage solution comprised of cold rolled steel upright column sets that support vertically adjustable load bearing beams. The other is structural pallet rack, and is the strongest, most durable type of pallet racking available today. Manufactured from heavy-duty hot rolled structural steel and built to withstand the most rigorous of applications, structural racking is a testament to the sturdy nature of its core component. Having high strength, stiffness, toughness, and ductile properties, structural steel is one of the most used materials in commercial and industrial building construction. It is widely available the world over and used in just about any construction application one can think of.
Pallet Rack Can Be Designed to Fit Any Need
The basic elements of steel pallet racking are paired, (often welded) columns which make up "uprights", load bearing beams, and often some form of "decking" to make a solid base for products to rest upon. Uprights, beams, and deck are available in myriad sizes to suit just about any application. The racking is put together either via 'teardrop' shaped holes punched into columns and rivets attached to beams, or via traditional nuts and bolts. Connection method varies depending on the material they are constructed with, with structural being bolted together and roll-formed being fit together with the rivet system. Beam heights are adjustable, usually in 1 – 2" increments, to suit specific applications. Different size base plates can be affixed to the bottoms of the uprights depending on operator need and may be anchored to the ground in high-seismic areas. This most basic form of pallet rack just described is called Selective Rack. Designed for maximum 'selectivity', forklifts can pull any palletized product available on the pick face with ease. Nearly every other form of Pallet Rack System is constructed from the main elements that make up Selective Rack.
Strong Yet Also Cost Effective
Combining elements of both structural and roll-formed rack create what are known as hybrid rack systems. Hybrid Systems are usually a custom design, combining the strength and durability of structural frames with the flexibility and cost effectiveness of roll-formed beams. All the benefits of easy reconfigurability, utilizing step beams, and cost savings coupled with the vertical rigidity, bolted connections and durability mean the best of both worlds for these systems. Operators with larger products that do not weigh all that much relative to their size might opt for just such a system, meeting seismic or impact safety requirements while saving money on the relatively lighter weight of roll formed beams.
Easily Adaptable to Suit Any Specialty Application
In addition to combining roll-formed and structural elements, integrated storage rack systems will often incorporate other specialized pallet rack elements, including PushBack Rack, Pallet Flow, Carton Flow, Drive-in/Drive-Thru, and more. Utilizing a single vendor for all the different elements of a hybrid system, like industry leaders Hannibal Material Handling, ensures a solid product that works right the first time. While Hannibal does not have a monopoly on Hybrid Systems, they are some of the best in the industry at creating the products that make them work. Getting a personalized design suited distinctly to your needs is as easy as calling up Conveyor & Storage Solutions. A Master Dealer for HMH, C&SS has decades of experience using the best products in the industry to solve real problems for real businesses.