Description
Near-Universal Compatibility Makes Expansion Easy
Teardrop Pallet Rack, more commonly known as roll-formed pallet rack, is the standard warehouse racking for most developed nations across the globe. Roll-formed rack is the most flexible and extensively used pallet rack in the material handling industry. It is built and designed to handle almost all light to medium duty loads in warehouses the world over. Roll-formed pallet rack is a medium to light duty boltless multi-level storage solution comprised of cold rolled steel upright column sets that support vertically adjustable load bearing beams. Roll-formed teardrop step beams feature a "step-down" angle set in the top corner of each beam. These steps leave room for the operator's choice of decking to be installed as applications require. The beams are connected to the columns via 'teardrop' draped holes cut into the columns with circular rivets affixed to the beams. The beams simply drop into place with no additional tools required, and sport wire clips to keep the beams in place during normal operation.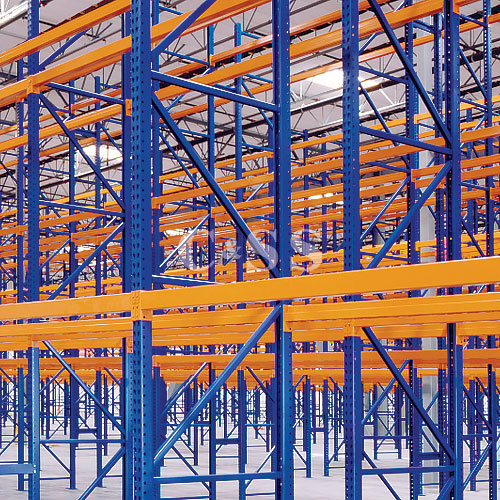 Teardrop Pallet Rack is Cost-Effective Storage for Medium to Light Duty Jobs
While there are many similarities, Roll-formed racking deviates significantly from its closest counterpoint, Structural Steel Pallet Rack. The differences between the two types of racking begin early in production. Roll formed pallet rack is made by feeding pieces of steel through a sequence of roller dies. Each roller die bends the frame column closer to its eventual finished shape. These bends and folds give the raw sheet metal during the manufacturing process add tensile strength. Typically, the more lengthwise bends an upright frame column has, the stronger and more rigid it will be.
The pliability of roll formed racking puts it at odds with structural pallet racking. This is because structural pallet rack is manufactured by pouring molten steel into a mold, forming it with a die, and letting it cool to form the pallet rack component. Once the steel has cooled, the product is in its strongest form. Trying to bend or modify a component may compromise structural integrity. There are several different forms or shapes of structural steel, but a couple of the most common forms include C-Channels and I-Beams.
Setup and Breakdown With Ease
Aside from its production, teardrop pallet rack carries with it several differences and advantages over structural steel pallet racking, first and foremost being its low weight. Roll formed is much lighter than structural, and as such is cheaper to purchase for the end user. Its relative light weight also makes it easier and cheaper to transport by a significant factor. Cost savings continue in installation, as roll-formed pallet rack requires no extra hardware like bolts or nuts, whereas structural is all bolted connections. Installation is also much faster than structural on account of its boltless design, saving on initial labor costs. While Roll-formed racking is more susceptible to impact damage and environmental corrosion on account of its thinner material makeup, its modular design makes repair and reconfiguration costs similarly cheaper than structural. That modularity also means that roll-formed rack is typically compatible across all brands, making adding on to existing structures much easier than with structural rack.
Roll-formed pallet rack is utilized in countless industries around the world. It has applications in material handling, warehousing, production line, cold and dry storage, automotive, and hundreds more. Structural is more suitable in heavy duty applications and more impact prone environments, but often the two work in tandem to fill in service gaps or save on cost. Roll-formed is endlessly modifiable and used in many different pallet rack systems including selective, pushback, pallet flow, carton flow, and more.
Decades of Technological Expertise
While there are dozens of companies producing roll-formed racking, few carry the breadth of experience and knowledge like Hannibal Industries Material Handling. For over 35 years, Hannibal has been a leader in technological and engineering innovation, producing the finest pallet racking systems and solutions to suit any need. And to make sure your Hannibal racking system is perfectly suited to your specific needs, look no further than Conveyor & Storage Solutions. As experts in dense storage solutions, custom fit designs and absolute efficiency, C&SS is the partner you need to get your job done right the first time. Along with decades of experience, C&SS is a certified Hannibal Master Dealer, stocking their most popular items for lightning quick turnaround and getting you the best prices for all your material handling needs.