We recently acquired a large integrated storage system, which was used in the back warehouse part of a retail store. This system includes a variety of Interlake brand pallet rack components with wire mesh decks, a clearspan structural mezzanine, over 300 units of Interlake heavy duty bulk storage racks with metal decking, an Interlake floor-to-floor powered belt conveyor, two sets of industrial stairways, 17,000 square feet of steel bar grating, and a vertical reciprocating conveyor manufactured by PFlow Material Lifts.
Integrated Storage System Specs:
Interlake New Style Pallet Rack
Clearspan Structural Mezzanine
Bar Grating Catwalk and Mezzanine Floor
Interlake Quick Assembly Heavy Duty Bulk Rack
Interlake Powered Belt Conveyor
PFlow Material Lift
Industrial Stairs
---
Pallet Racking, Uprights, Frames, Horizontal Load Beams, Wire Decks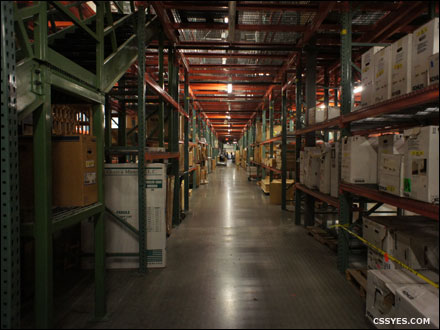 Many different size rack components are available.
We currently have a large selection of used Interlake style pallet racks. Visit our used pallet rack page for for more info regarding sizes available, condition, and purchasing.
Interlake Pallet Rack Specs:
Interlake new style racking for seismic zone 4
10′ high, 12' high, and 23′ high uprights
24″ deep, 36″ deep, and 48″ deep uprights
60″, 78″, 96″, 108″ and 120″ long horizontal load beams
Wire mesh decking
---
Used Structural Mezzanine Floor for Overhead Storage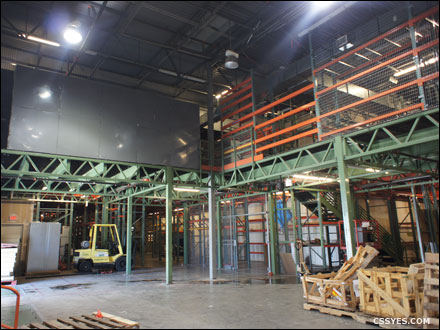 Custom mezzanine maintains clear traffic flow to the dock area.
This custom designed mezzanine ties 2 rack supported mezzanines together at the dock area, while creating a wide open space that allows throughput of inventory and traffic of personnel. An employee access stairway leads up to the open steel bar grating mezzanine floor. Follow this link to find out more information about our used mezzanine for sale.
Structural Clearspan Mezzanine Specs:
12′-6″ Top Of Deck (T.O.D.)
10′-5″ overhead clearance below mezzanine floor
2 sets of stairways and materials lift available, optional
Bar grating mezzanine floor
---
Used Industrial Material Lift, Freight Elevator, Straddle lift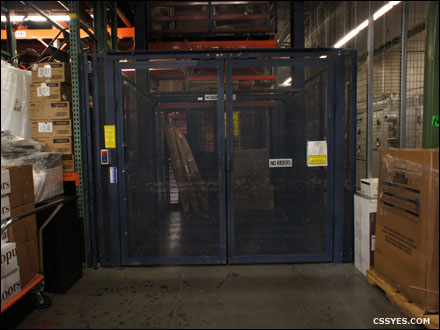 Lifts large and heavy products, such as furniture, pallets, and other inventory between warehouse floor and mezzanine floor.
Vertical reciprocating conveyors and materials lifts, provide fast, efficient, convenient and safe movement of materials for mezzanines, balconies, basements, and between levels in multiple story buildings. They can be installed for through-floor, interior or exterior applications.
PFlow Vertical Reciprocating Conveyor (VRC) Specs:
PFlow material lift
Straddle lift
"C" configuration loading and unloading
Compatible with rack catwalk and mezzanine floor
---
Used Powered Belt Conveyor, Floor to Floor Conveyor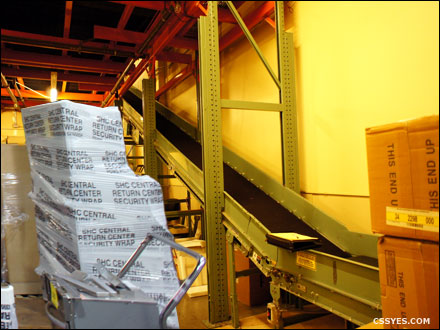 Moves boxes and cartons between warehouse floor and rack supported catwalk floor.
This two direction powered conveyor moves boxes and cartons between floors. Guide rails on both sides of the conveyor minimize products from falling off. The powered feeder assists with product movement. This used powered conveyor is suitable for catwalk and mezzanine applications.
Interlake Powered Belt Conveyor Specs:
Interlake powered belt driven conveyor
Powered feeder
29″ between frames (B.F.)
Guide rails on both sided of conveyor
---
Cotterman Dual Side Track Ladders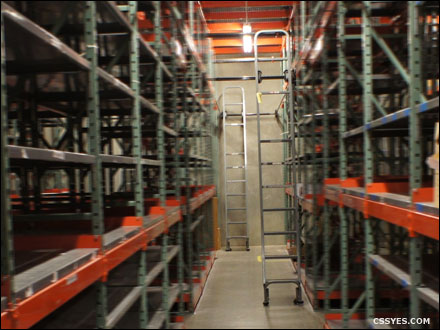 Stock access using attached track ladders
Steel track ladders systems specifically designed for retrieval of stock from shelving. The ladders roll along a track that is mounted on the shelving.
Cotterman Dual Side Track Ladder specs:
7 step track ladder
Top step at 72″ high
Access to 126″ high shelf levels
14″ wide treads, 16″ overall width
Top of ladder is 127″ high (overall height)
Dual track system is at approximately 106″ high
---
IBC Stairway for Rack Supported Catwalk and Structural Mezzanine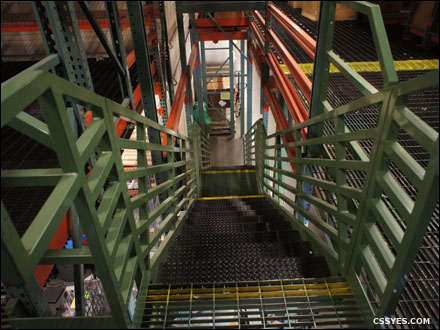 Employee access to mezzanine and catwalk floor.
Catwalk stairs access have the important role of providing exit from an elevated storage system. Depending on the size of your storage application, at least one stairway will be required to meet building code regulations.
---
Interlake Quick Assembly Heavy Duty Bulk Rack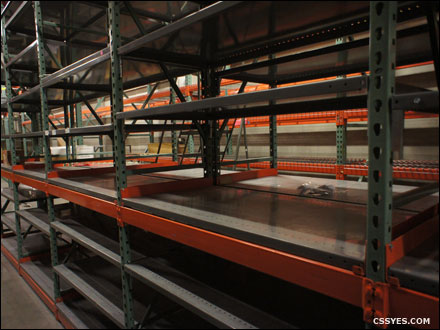 Bulk storage racks with metal shelving
We have a large variety of
heavy duty bulk storage racks
available. Most systems are custom deigned to maximize individual applications and customer's needs.
Interlake Storage Rack Specs:
Interlake Quick Assembly Bulk Storage Racks
Units are all 48″ wide x 24″ deep
12′ to 23′ high units available
Metal shelf decking (Interlake steel "C" panels)
Multi level catwalk available
---
Used Steel Bar Grating for Catwalk Floor and Mezzanine Floors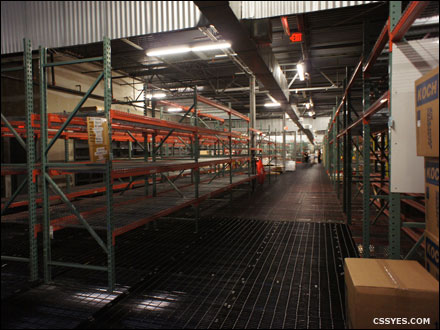 Bar grating for catwalk and rack supported mezzanine floor
Welded steel bar grating is the most popular of all grating types due to its strenght, cost efficient propduction and ease of use. Univerally used in most general industrial plants as well as commercial buildings, it has wide applications as walkways, platforms, safety barriers, drainage covers, ventilation grates, catwalk floors and mezzanine floors. We have more information on our used bar grating page.
Steel Bar Grating Specs:
Standard welded 19-W-4 steel bar grating
24″ wide x 240″ long pieces, other sizes avaialble
For rack catwalk and mezzanine floors
---
Used Industrial Clip Shelving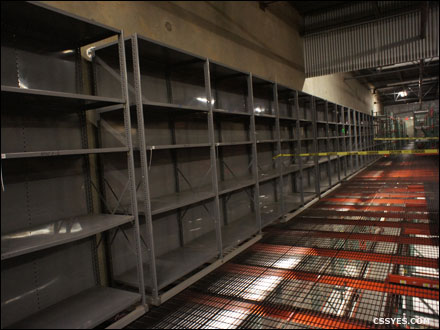 Pre-Owned industrial clip shelving
30 to 40 units for sale of industrial clip shelving in excellent condition. Discounted prices available if purchasing the whole lot of this product. See below for more information on this shelving storage system.
Shelving Specs:
Pre-Owned Industrial Clip Shelving
48″ wide x 24″ deep x 96″ high
500+ lb per level
30-40 Units Available
5 Solid metal deck levels