Wide Span Storage Racks
We recently obtained a large lot of used Interlake style pallet racks. The materials can be applied for a variety of systems including pallet storage, rack catwalks, rack supported mezzanines, and wide span storage rack purposes. Below is a partial list of items.
Mecalux Pallet Rack Specs:
Interlake teardrop style pallet racks, Made in the USA
108″ long beams, 5″ and 4-3/4″ high
36″ deep uprights, 216″ and 240″ high
Heavy gage columns with seismic base plates
Wire decks, 36″ deep x 52″ wide
Used Wiremesh Decks in Stock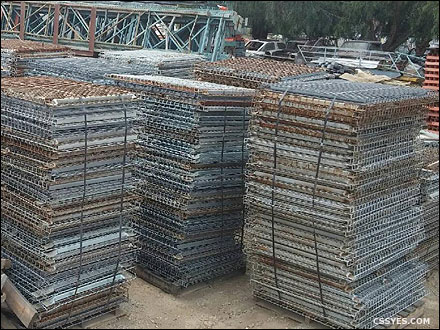 Recent picture showing current condition.
Wire decks, 36″ deep x 52″ wide
Step style & flared style
Approx. 1,000 in stock
Call for additional info
36″ x 52″ Wire Decks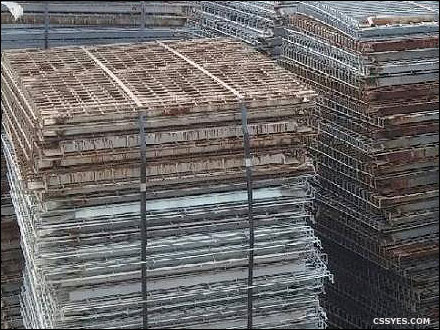 Sold "AS-IS", stored outside for one year.
Wide Span Wire Racks, 36″ Deep x 52″ Wide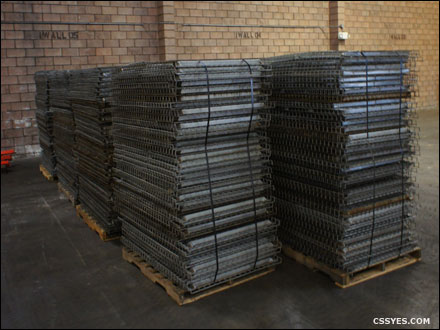 USA made wiredecks for pallet rack systems.
These wire decks fit 36″ deep uprights and 9' long beams. Using two decks side-by-side, they will span across 108″ wide beams just right. These wire racks are manufactured in the USA, are constructed from heavy gage steel, and have a tighter grid pattern than your standard wiremesh decks. They feature waterfall edges, and have 3-5 cross supports to safely allow for heavy product storage.
Wide Span Beams to Support Oversized Pallets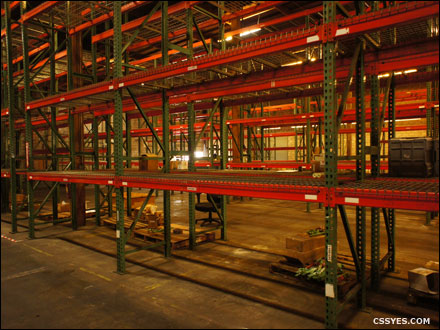 Used Material Handling Equipment.
There are many applications where 108″ long beams are preferred over 96″. One example is storing oversized pallets. While standard pallets are 40″ wide, many pallet loads may extend beyond the pallet itself, creating an "over-hang" on both sides. For pallet loads that are 44″ to 48″ wide, it is common to use pallet rack beams that span 108″. For wider loads, we generally use load beams that span 120″, or even 132″. For other sizes, check out our used material handling equipment section of our website.
Interlake Model #386 & #496 Beams, 108″ Span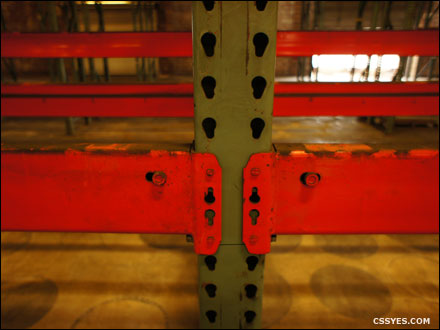 Interlake Pallet Rack Load Beam.
Interlake's Model #386 & #496 are super heavy duty beams. The #386 boast a 5″ face, and the #496 have a 4-3/4″ face; both capable of supporting maximum pallet loads, and other extreme storage conditions. Interlake pallet rack is available in a variety of sizes.
Interlake Model #099 Uprights, 216″ and 240″ Frames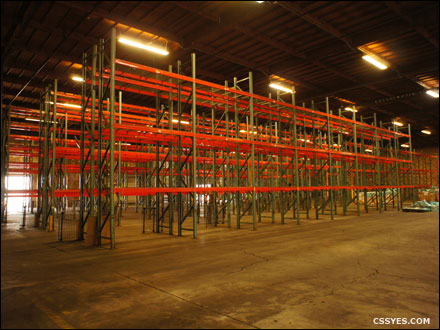 Super heavy duty pallet rack uprights.
Interlake's Model #099 is super heavy duty uprights. The columns are 4″ x 3″, and made of 11 gage steel. The diagonal braces are larger than normal and also heavier gage. These heavyweight frames are designed to support maximum loads, and can be used for heavy pallet storage, to make a durable rack supported mezzanine, and should be considered for a multi-level rack catwalk system.
36″ Deep Pallet Racks, 3' Wide Uprights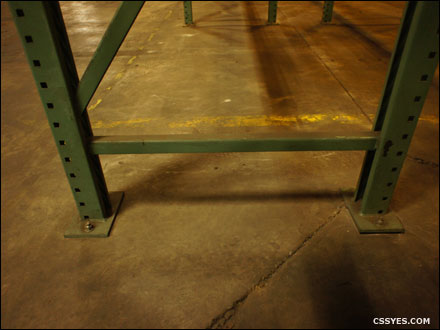 3' Racks for 3' Products.
36″ deep uprights are best used for storing products, boxes, supplies, and other inventory that are 3' in length.
Store Standard 40″ x 48″ Pallets "Wrong-Way" Direction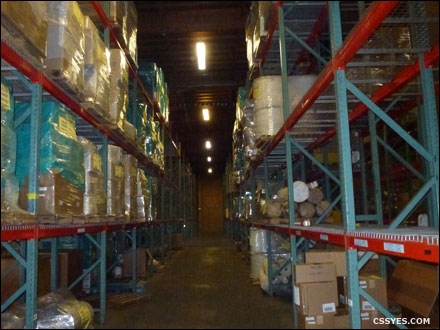 "Wrong-Way" Direction
Four-way pallets that have front and rear openings between decks, as well as beneath the stringer notch on both sides of the pallet to admit fork entry, can be stored on racks using a combination of 36″ deep uprights and 108″ long beams. This requires that the pallet be handled from the side, or the "wrong-way" direction. Since not all pallet construction has notched stringers and can be handled from their side, the procedure entails custom handling practices, and should be consulted with your local material handling dealer.
Minimize Aisle Size for Pallet Racks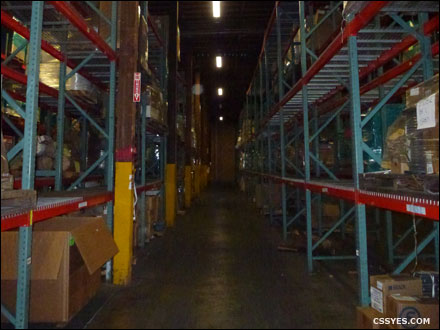 Warehouse columns align with uprights so no pallet position is waste.
Maximize Pallet Storage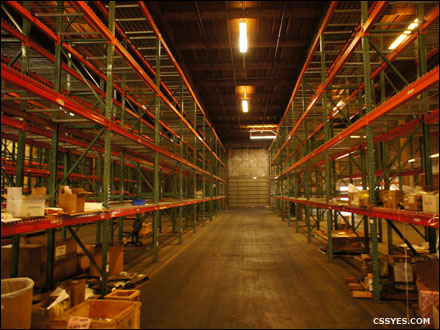 Roll-up door facing one of the aisles from the system.
9' Storage Racks Beams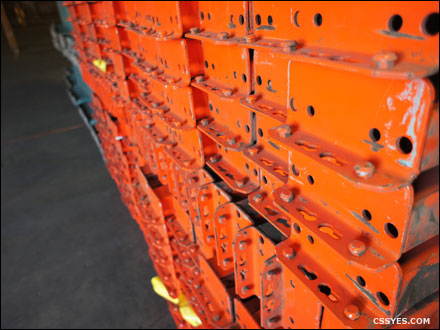 Materials inspected and packaged ready for delivery.